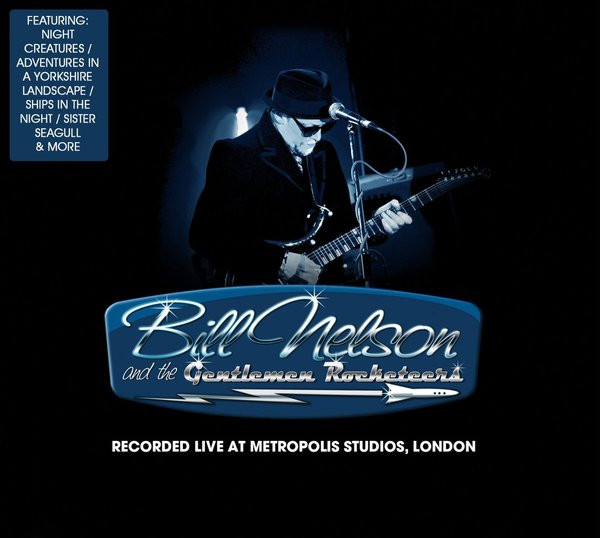 Written by Greg Barbrick
I must admit that when I heard that Bill Nelson was planning to revisit some classic Be Bop Deluxe tunes for a concert recording, I was more than a little excited. This is something I had been hoping of for over 30 years now. The first Be Bop Deluxe record I heard was way back in 1978. It was their 1974 debut album Axe Victim, and I was blown away by it. To me, if ever there were an unsung guitar hero, Bill Nelson was it. Unfortunately my timing could not have been worse. At the very moment I was discovering this great band, they were in the process of breaking up.
They covered a lot of ground in four short years, 1974 – 1978, which saw the release of five studio albums plus the double Live in the Air Age. While the studio albums had their charms, it was onstage where Bill Nelson really shined. His "Adventures in a Yorkshire Landscape" is a majestic display of guitar prowess.
But he seemed to be leaving his days as a guitar hero behind. Be Bop's fifth and final album Drastic Plastic (1978), looked toward the brave new world of electronic music. For the next 30-odd years he rarely played any Be Bop songs live, as if that whole experience was one that he was content to consign to the dustbin of history.
With the new DVD/CD combo concert package Bill Nelson and the Gentlemen Rocketeers: Live at the Metropolis Studios, London, the guitar hero has made a welcome return. The program features 18 songs, 14 of these were recorded with the six-piece Gentlemen Rocketeers. There are three solo instrumentals, and one instrumental with Bill and a remarkable saxophonist by the name of Theo Travis.
Of the 14 full-band tracks, seven are from the Be Bop Deluxe catalog. Two more are from the 1979 album Sound on Sound, which many consider the unofficial sixth Be Bop album. These songs were written for the band, but things went sideways before they were recorded. In the end, the Sound on Sound album was credited to Bill Nelson's Red Noise. The remaining five tracks hail from a few of the many solo ventures Bill Nelson has recorded since.
With the history dispensed with, the real question is how do Bill Nelson and the Gentlemen Rocketeers sound? The answer is very good, in fact great at times, but in ways that I came as a bit of a surprise for me.
The Metropolis is a tiny space. The audience is 120-strong, all invited. That is one way of guaranteeing you will get a positive response from your crowd, but I doubt if that was the real reason for the invitation-only situation. The place is so small that the band has to literally walk through the crowd to get to and from the stage. And the stage itself is so small that the seven-piece band are practically tripping over each other as they play.
What was unexpected and adds so much are the new arrangements of many of the songs. The music still rocks ferociously at times, but with the addition of Theo Travis' sax and flute, there are interludes that add a whole new dimension to the music. In 1977, Be Bop Deluxe was a hard charging four-piece, who were opening for the likes of Ted Nugent and Nazareth. They rocked fiercely, as is heard on the previously mentioned Live in the Air Age (1977).
Live at the Metropolis shares a couple of tracks with Air Age, such as "Sister Seagull," and "Maid In Heaven." And I swear, 35 years on, they sound as powerful as ever. But when Travis takes a sax solo during the opening tune "October Man," we immediately see that Bill Nelson has decided to flesh out these tracks in some surprisingly different ways.
"October Man" originated on Nelson's 1982 The Love That Whirls LP, which sounds hopelessly dated now, thanks to the synth-heavy instrumentation. By "re-booting" the songs with Theo Travis' sax and flute, he has managed to make the music fresh and vibrant again.
For some fans, the most riveting portion of the DVD may not be musical at all. As a bonus, there is a 17:30 interview, during which Bill tells a number of tales. These include his first shot at stardom, which was not Be Bop, but a 1971 solo album titled Northern Dreams. It went nowhere, and from there he moves on to a lengthy discourse about the career of Be Bop Deluxe. After this comes his ongoing solo career. It may sound dry to the uninitiated, but for some of us, hearing these tales from the notoriously reclusive Bill Nelson is very special indeed.
The upshot is, if you have ever considered yourself a Bill Nelson/Be Bop Deluxe Fan, this set is a must, no question about it. And as an introduction to his music, it is not a bad place to start either.