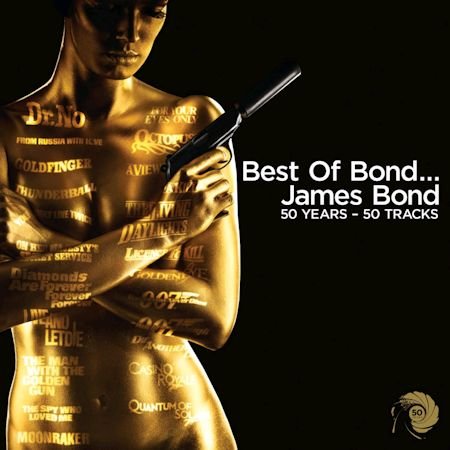 Bond. James Bond. For some, it's the man itself that makes them jump up and down with delight — personal choice in actors notwithstanding, of course. For others, it's the endless array of post-kill puns, sexual euphemisms, and gadgetry. Finally, folks, there are those in this world who love 007 movies just for the musical contributions they have brought to the world; whether it be a kick-ass theme song or just some tense incidental music. And that, boys and girls, brings me to the very point of this piece: the music that has been accompanying James Bond on his various adventures all over this world (and sometimes in space) for the last 50 years.
While there have been James Bond compilations aplenty released by both major and minor labels over the years (a particular favorite of mine was a delightfully bad collection of theme song covers that I tormented friends and colleagues with, and which were performed by a group of singers so awful, they made the Soundalikes seem good by comparison), I must say that the recent Capitol/EMI release Best of Bond…James Bond: 50 Years – 50 Tracks is a nice one indeed.
This 2-CD set begins with just the theme songs themselves (which are also available as a single-disc edition, subtitled 50th Anniversary Collection), and moves onto another disc full of supplementary orchestrations (mostly by the late great John Barry) and alternate/end credits songs. All tracks have been digitally remastered for the best possible sound quality — so those of you who wore out that From Russia with Love LP you bought way back when might be able to make the long-overdue transition to Compact Discs in a relatively safe manner. Well, maybe: nothing beats vinyl after all, right?
But I digress, kids. Disc One features the theme tunes from 1962's Dr. No (the epic "James Bond Theme," written by Monty Norman, as performed by the John Barry Orchestra), and moves its way up to "Another Way to Die," the theme to 2008's Quantum of Solace by the odd coupling of Jack White and Alicia Keys — and all of the various good ("You Know My Name"), sappy ("For Your Eyes Only"), and downright awful ("The Man with the Golden Gun") songs that have escorted the 007 feature films over the years.
But, as any K-Tel spokesperson could tell you: "That's not all!" Disc Two of the Deluxe Edition of this release is as handy as one of Q's seemingly-extraneous inventions — and, ultimately, sets this release apart from the other Bond Anthology CDs out there. Most of the 27 tracks on this disc consist of many memorable background tracks from the franchise, as composed and conducted by Monty Norman, John Barry, George Martin, Marvin Hamlisch, Bill Conti, Eric Serra, Scott Walker, and David Arnold (there's also a remix of Monty Norman's timeless theme by Moby from the Tomorrow Never Dies soundtrack, which sticks out like a sore thumb here just as it did on every other album release).
For those of you who aren't into incidental music, you'll be pleased to know that The Pretenders' "Where Has Everybody Gone?" and "If There Was a Man" (as featured in The Living Daylights) are here, as is k.d. lang's "Surrender" (from Tomorrow Never Dies), and that funky cover of Live and Let Die with soul singer B.J. Arnau (which is part of a medley).
Best of all, the alternate theme song from Thunderball — "Mr. Kiss Kiss Bang Bang," as performed by the great Dame Shirley Bassey — is also here. It was originally supposed to open up the 1964 blockbuster, but a last minute change found Tom Jones stealing the, er, thunder there. Interestingly, both "Surrender" and "If There Was a Man" were chosen to open their respective movies, but were also dropped at the last minute. Fortunately by then, end credits in motion pictures had been stretched out far enough that both of those abandoned ditties (both of which are quite nice, especially the k.d. lang song, which resembles the older '60s songs) could be included there. And their inclusion in this outstanding best-of release is commendable.
The only thing that could have made this set any better would have been a third disc that featured nothing but discarded theme songs, solicited offerings (Blondie, Alice Cooper, Eva Almer all submitted their own theme songs over the years), the theme songs from those unofficial Bond movies, and demos (Amy Winehouse's theme for Quantum of Solace, Julie Rogers' take on You Only Live Twice, etc.).
Sorry, folks, got caught up dreaming there.
The Bottom Line here: Best of Bond…James Bond: 50 Years – 50 Tracks is a delight to listen to in all its remastered glory, and comes highly recommended to those of you who don't necessarily have any reason to buy all of the standalone soundtracks.