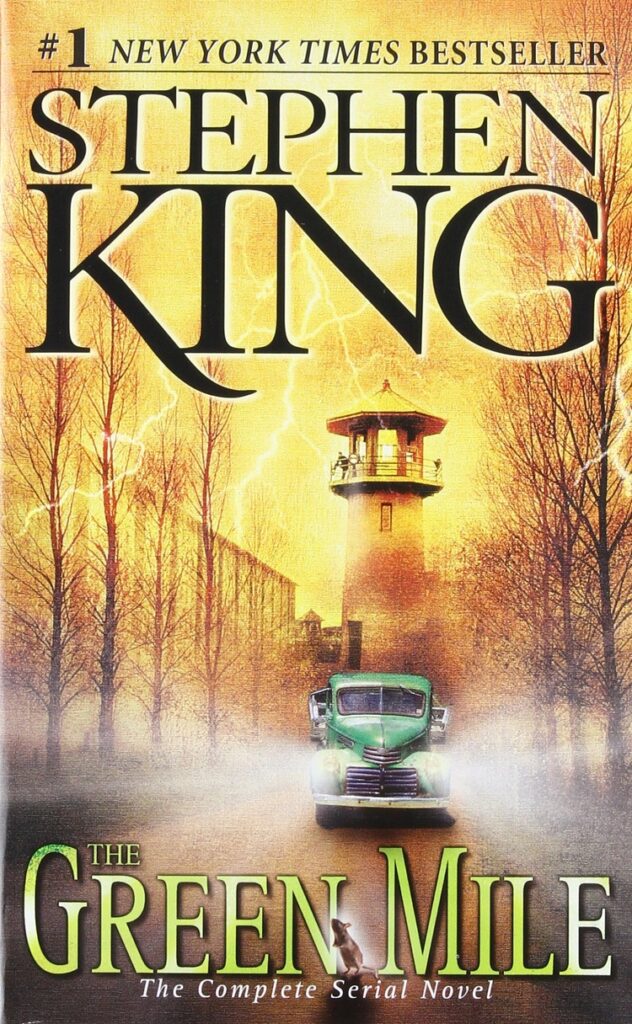 2020 BY THE NUMBERS
4,872,686 steps taken this year (2361 miles, 64 less than 2019)
365 Days walking over 5 miles in 2020
3 Days not walking over 5 miles since 1/1/15.
56 days with over 7 hours of sleep (twice of the 2019 number)
100 beers logged that were new to me this year.
0 times with the hiccups
32 books read (5th year in a row of meeting 25-book goal)
12,833 pages read in completed books
0 concerts attended
1 time swimming
36 films released in 1970 watched
17 unique taco joints visited
4 movies seen in theaters (short of 25 goal)
9 States visited
296 albums released in 1970 listened to in 2020
2 Major League Spring Training Ballparks visited
31 unique whiskeys consumed
BEST BOOKS I READ IN 2020
After almost a decade of not reaching my yearly goal of 25 books per year – I'm on a run of five straight years of beating the goal. This year's 32 books read were led by my continued Stephen King project that leaves me around 2001 as I read the novels in order.
1. KING – THE GREEN MILE. Reading it again for the first time since it was released in serial format. I devoured it just as I had back in the '90s.
2. DICK – FLOW MY TEARS, THE POLICEMAN SAID. I started getting into PKD this year finally and this was my first and I loved it.
3. TWAIN – THE ADVENTURES OF TOM SAWYER. Reading it for likely the third or fourth time and I still discover subtle bits of comedy that I have missed before.
4. KING – DARK TOWER IV: WIZARD AND GLASS. The series took a much different tact and I loved it alomst the most of any other book so far in the story. The next books coming up early in 2021.
5. CLINE – ARMADA. It's like he grew up in my neighborhood.
BEST RECORD STORES OF 2020
Project cancelled / delayed for obvious reasons. Stay tuned.
BEST TACO JOINTS OF 2020
This should have been the ultimate project in 2020. I have rarely been so excited to pursue a project as this one. Fast forward 2.5 months and 17 taco joints and COVID closes everything. Instead of taking all of them to-go, I suspended the project to be continued when we can sit on a patio again and enjoy them as a taco is meant to be consumed in the wild.
1. CRUSH TACO (Frisco, TX). This Frisco taco place is a bit hidden but those who know, they know. Consistently the best this year. Glad I took a chance to discover it this year.
2. TACO OCHO (Frisco, TX). Unfortunately, I haven't been back here since February. I had read good things about the place and this is why I do these projects – to go out and discover places that I pass by most days to go to places I have been before. Plenty of other tacos on the menu here I'd like to try.
3. TACO CHELO (Phoenix, AZ). Before this all fell apart in 2020, I had a great set of tacos in a great setting. A beer and a patio and a plate of tacos is what this project was really meant to be.
4. FUZZY'S TACO SHOP (Little Elm, TX). We get Fuzzy's takeout most every Friday night and I still miss eating inside. A nice bar and a good dog-friendly patio. I hope we can return in 2021. Try the shrimp fajita tacos.
5. 3 FLIGHTS UP (Frisco, TX). This place has the best beer selection of any of the places I had tacos at this year. The tacos were solid and unique too.
BEST WHISKEYS OF 2020
I consumed less beer in lockdown and sipped more whiskey. I'm discovering new worlds to me in a liquor that I've always enjoyed. Here's the best of the sweet brown nectar I had this year.

1. BUFFALO TRACE STRAIGHT BOURBON WHISKEY. I can't always find it around here but when I can, it's a must purchase. The best sipper of the year.
2. WILD TURKEY 101 STRAIGHT BOURBON WHISKEY. I was told to get this as a "beginner" whiskey and it's a great daily drinker.
3. OLD TUB KENTUCKY STRAIGHT BOURBON WHISKEY
4. BASIL HAYDEN'S STRAIGHT BOURBON WHISKEY. If this was more affordable, I'd have it in the pantry all the time.
5. SPEYBURN HIGHLAND SINGLE MALT SCOTCH. For the first year, I've actually learned to appreciate a decent Scotch. Although I find that I like the cheaper stuff first.
6. TULLAMORE DEW IRISH WHISKEY. I prefer this to the Jameson's.
7. JOHNNIE WALKER BLACK LABEL SCOTCH WHISKEY
8. JOHNNIE WALKER RED LABEL SCOTCH WHISKEY
9. BULLEIT BOURBON STRAIGHT WHISKEY. Another one that's a good daily drinker and almost always in the collection.
10. KNOB CREEK KENTUCKY STRAIGHT BOURBON WHISKEY. A trusted brand for sure.
MOST MISSED OF 2020
1. ENNIO MORRICONE. If movies had a Beethoven, this would be our maestro.
2. JOE RUBY / KEN SPEARS. Amazing that we lost both of the Scooby-Doo creators in the same year. The hours of entertainment that they have brought to me from youth until literally today can't be underestimated.
3. BILL WITHERS.
4. CHUCK YEAGER. The definition of a "bad ass"
5. CHADWICK BOSEMAN. The biggest shock of the year was also one that I can truly call a loss for all of us as probably his best works still in front of him at the time of his passing.
6. KOBE BRYANT. Even if not a Lakers fan in his days, I respect the game.
7. ALEX TREBEK.
8. JOE MORGAN. Also one of my earliest baseball heroes.
9. KENNY ROGERS. Now I guess it's "Islands in the Sky". Love his beard and his voice.
10. AL KALINE. My first Detroit Tiger that I really knew by name. And later knew by voice.
THINGS FROM 2020 THAT DIDN'T MAKE ANY OTHER LISTS
1. RIGBY. She is #1 again for a second year. But she has continued to be the biggest influence on my life. We routinely get up at 5am and walk and we go outside in sunshine and rain. We spend hours at the dog park and she's my TV and reading buddy.
2. HBO MAX. Bringing me Scooby-Doo, Warner Bros cartoons, DC Comics shows, and some of the best classic and art films on any streaming service.
3. PODCASTS. Spotify has upped their podcast game and it's been invaluable additions to my projects to listen to these at work and in the car.
4. LITTLE ELM CRAFTHOUSE. The most impactful local casualty of COVID for me was the loss of Little Elm Crafthouse. Todd and crew opened towards the end of my year of craft beer discovery. Before Rigby, they were my stop each Friday afternoon – I was their first customer and we'd just chat about beer, sports, and life. They were a place to take a to-go order and enjoy a good beer with my meal. I had an almost flawless Trivia record there – only once or twice not finishing in the Top Three. These sort of small town places are going to be missed the most.
5. MICHIGAN BASKETBALL. Juwan Howard has brought me excitement that I don't have in Michigan Football anymore.
6. PUZZLES. The Pandemic turned me from a "only goes out for a quick drink and dinner" guy to a "welp, going to stay in again tonight" guy. In addition to more time to read, it gave more time for puzzles.
7. SPACEX. Few things get me more excited than a new SpaceX launch and sending astronauts to the ISS and soon the moon gets us that much closer to a trip to Mars. I'll be a pain to be around when that happens. Just be forewarned.
8. DALLAS MAVERICKS. Pretty excited about this year's team, if COVID doesn't shut the whole thing down again. Since baseball and football are a mess around here – this is what we cling to.
9. YANKEE CANDLE. My obsession is now encouraged by the family so expect seasonal appropriate scents when you enter the house. Part of this obsession is an evolving love for the WoodWick brand too. Favorite scents of 2020: Whiskey/Oak, Balsam & Cedar, and Black Cherry.
10. PIZZA'S READY. This late entry into the year only opened a couple weeks ago but initial orders are promising for this to be our favorite pizza in town. New York style and the best sauce I've had in forever.
BEST PRINCE ALBUMS HEARD IN 2020
I started a new project this year to cover my other largest musical love equal to The Beatles. The Prince Project will go on at least another year. I really took the time to enjoy the albums and try to hear them for the first time again. It's hard not to be influenced by the articles I've read about the construction of these albums. But here's where you should start if you want a Prince journey.
1. SIGN O' THE TIMES (1987). I would have told you that this was my favorite Prince album before I started and nothing happened to dissuade me this year. It combines so many facets of music/lyrics/fun/dance/rock that I love about his music. It's a must. Start with "The Ballad of Dorothy Parker".
2. 1999 (1982). It's easy to only know the hit singles. Which alone might make this the #2 best. But the remaining tunes are well worth the listen. Start with "Something In The Water (Does Not Compute)".
3. PURPLE RAIN (1984). Much like "1999", it's the songs that weren't hits that really fill out this awesome album. Start with "Take Me With U".
4. GOLD EXPERIENCE (1995). Start with "Shy".
5. LOVE SYMBOL (1992). Prince gets down and dirty and funky here. This is his party album more than almost any other. Start with "Love 2 the 9's".
6. CONTROVERSY (1981). Really starting to discover what will become his incredible ten-year run after this. Start with "Let's Work".
7. DIAMONDS AND PEARLS (1991). A few missteps but the band here is tight. Start with "Daddy Pop".
8. EMANCIPATION (1996). Lots and lots of music here that could have been edited down a bit. Start with "Sex in the Summer".
9. DIRTY MIND (1980). Raw musical talent and sexual energy. Start with "Uptown".
10. AROUND THE WORLD IN A DAY (1985). Too often overlooked, this has some great jams. Start with "America".
BONUS: QUESTLOVE PRESENTS PRINCE (6/8/20). Questlove rolls out five hours of Prince songs with mixes you've never heard and a ton of background stories. And oddly, a life hack.
BEST BEATLES HEARD IN 2020
I picked up the Beatles Project from 1995-2005 this year. It's a secondary focus but I'm still going to finish the project. It's still very enjoyable to me.
1. BEATLES – LET IT BE . . . NAKED (2003). The stripped down mix of this album show off some of the raw talents of the group and feature the excellent lyrics. Start with "The Long and Winding Road".
2. PAUL MCCARTNEY – WINGSPAN: HITS AND HISTORY (2001). You couldn't ask for a better introdcution to the man's work. Start with "Waterfalls".
3. GEORGE HARRISON – BRAINWASHED (2002). I forgot how wonderful George was still into the 2000's. Start with "Stuck Inside a Cloud".
4. PAUL MCCARTNEY – CHAOS AND CREATION IN THE BACKYARD (2005). Paul doesn't really ever just reinvent himself as much as he finds different passions and you can tell he's having fun here. Start with "Friends to Go".
5. JOHN LENNON – LENNON LEGEND: THE VERY BEST OF JOHN LENNON (1997). Not as good as the McCartney collection, leaving off some of my favorites, but you should start here if you don't own the solo albums. Start with "#9 Dream".
BEST PODCASTS I HEARD IN 2020
As I mentioned above, I'm very new to the podcast universe. I have sampled many of them but only listen to a few on the regular. Here's the very unsurprising (if you know me) list of ones that I spun the most this year.
1. PRINCE, OFFICIAL PODCAST. This has been a valuable background research tool. Memorable episode: "Up All Nite with Prince, Episode 2" on the 2002 tour.
2. SPORTSRADIO 1310 THE TICKET. Technically not a true podcast but a collection of segments. Since I don't drive as much anymore and I don't get to catch everything on the stream, this is a valuable catch-up tool.
3. SMARTLESS. Will Arnett, Jason Bateman, and Sean Hayes. Each week one of them bring a special guest and then they all just chat. Memorable episode: "Ron Howard".
4. ROLLING STONE MUSIC NOW. Memorable episode: "The Making of Van Morrison's Astral Weeks and 1968's Secret History".
5. A HISTORY OF ROCK MUSIC IN FIVE HUNDRED SONGS. Tracing the history of Rock Music through the chronological release of the top songs of all-time. The early history is the most interesting to me as I discover more of the next generation in the 1970s. Memorable episode: "Hound Dog" by Big Mama Thornton.
6. THE KINGCAST. Good Stephen King-related conversations. Memorable episode: "The Running Man and The Stand wtih Ben Cavell".
I used to have lists on here about DVD's I purchased and music I bought. Those days are well behind us. Other than books I don't really purchase popular culture. I listen to music in the car (CDs and satellite radio) and the rest of my life is spent with Spotify on in the background most of the time. The addition of puppy dog, Rigby, has led to even more walks and more music.
MOST PLAYED SONGS FROM SPOTIFY IN 2020
1. A TRIBE CALLED QUEST – SCENARIO (REMIX). The top of this list reflects more time spent in the gym, especially at the beginning of the year. And research for a as yet unnamed project. Shhhh.
2. GUY CLARK – DUBLIN BLUES. There's the lasting influence of that Ken Burns documentary on Country Music that bled over to me enjoying lots of Guy Clark this year. "There's no need to forgive me for thinking what I thought."
3. PAUL MCCARTNEY & WINGS – BAND ON THE RUN. I feel like this has been a Top Ten song since I got the 45 in 1980.
4. JAY-Z – HEART OF THE CITY.
5. VAN MORRISON – INTO THE MYSTIC. Also a song that often hangs out in my Top Ten.
6. CROSBY, STILLS & NASH – HELPLESSLY HOPING. My Woodstock listening year and a great documentary on Crosby helped this song bubble up. "Only to trip at the sound of good-bye."
7. VELVET UNDERGROUND – SWEET JANE.
8. LITTLE FEAT – WILLIN'. My long road trip was responsible for a majority of these listens.
9. BAND – THE WEIGHT. See #8.
10. FREE – FIRE AND WATER. Maybe the surprising entry but I discovered this song from 1970 and I couldn't get enough of it.
BEST ALBUMS OF 1970
What an interesting year of music. There's a 1960s hangover that is heavily influenced by the bands that played Woodstock. Groups that enjoyed popularity in the 1960s are trying to figure out where they stand with the changing times (see every Motown group). There's plenty of socially relevant lyrics, the evolution of Hard Rock, the explosion of Prog Rock and the infancy of alternative music (especially electronic music and proto-punk). Here's what stuck with me fifty years after their initial releases.
1. GEORGE HARRISON – ALL THINGS MUST PASS. I've celebrated this album many times before but here it goes winning another "award". Start with "All Things Must Pass".
2. VAN MORRISON – MOONDANCE. Also not a surprise. I'm amazed with each listen how he combines the best of great writing and great vocal. Start with "Crazy Love".
3. NEIL YOUNG – AFTER THE GOLD RUSH. Hearing this again, espeically compared to the music his peers are doing, gives me new appreciation. Start with "Only Love Can Break Your Heart".
4. CREEDENCE CLEARWATER REVIVAL – COSMO'S FACTORY. I hadn't heard this all the way through until this year. It's a complete work from start to end. I forget how influential this band was to the next 20-30 years. Start with "Run Through the Jungle".
5. BLACK SABBATH – PARANOID. What can you even say. Just listen. Start with "Planet Caravan".
6. FUNKADELIC – FREE YOUR MIND . . . AND YOUR ASS WILL FOLLOW. Start with "Funky Dollar Bill".
7. GRATEFUL DEAD – WORKINGMAN'S DEAD. Call this the album that turned me into a Deadhead this year. Start with "Uncle John's Band".
8. THE STOOGES – FUNHOUSE. More on this in 2021. Shhh. Start with "Down on the Street".
9. VELVET UNDERGROUND – LOADED. This is what I love about listening to a whole year of music. You get the feel for how different and how far ahead some releases are for their day. This is an amazing album when you consider what else is being released. Start with "Sweet Jane".
10. CAT STEVENS – TEA FOR THE TILLERMAN. Start with "Hard Headed Woman".
It was such a great year for music because I'm leaving off great releases by The Who, Derek and the Dominoes, Beatles, CSN, The Doors and Led Zeppelin just to mention a few.
Thank you for your indulgence if you made it this far. My obsessions all stem from a desire to keep discovering and keep learning. The time I spend on these things is only rewarded by sharing opinions and observations with friends like you. So feel free to always chime in when I post things and make recommendations because my mind is always open.
Stay hard.