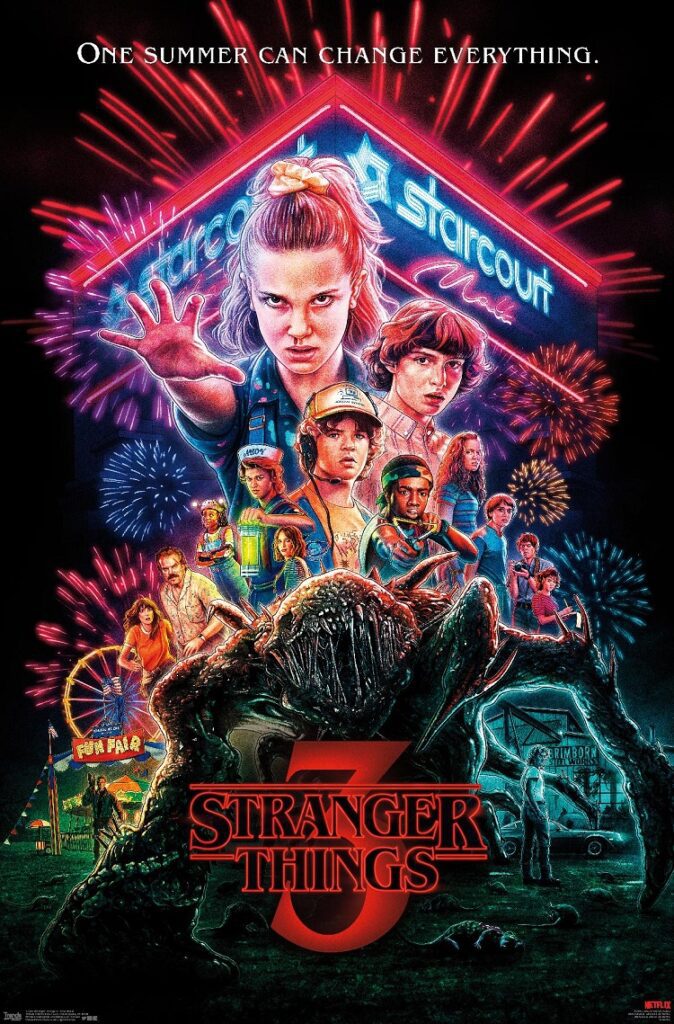 From 2005 through 2012, I pretty consistently wrote my Sunday Morning Tuneage blog. It continued inconsistently through 2013 before being abandoned. Each year was punctuated with a series of best-of lists. While the blog still remains retired, I'm revived it last year for a Best of 2017 and 2018. The feedback was enough for me to compile it again this year.
BEST OF TV / STREAMING 2019
We live in a very high-quality, TV-show era now.  Maybe the top end isn't as strong as a decade ago but the number of very good shows is amazing.  It's hard to even keep up with shows that aren't on your sourcing radar – HBO, Showtime, Amazon, Hulu, Netflix, etc. This list is as fluid as any here – ask me tomorrow and it might be different – but here it is at this time and place.
BEST SHOWS OF 2019
1. STRANGER THINGS (NETFLIX) I can fully admit there are some weaknesses in the plot but there just wasn't a more enjoyable show that combined my love of '80s settings, horror, and Winona Ryder.
2. VEEP (HBO) This show has a bit of an honorary award here. The last season was definitely darker and after years of being ahead of the curve they were just trying to catch up with the crazy realities in Washington. It's already missed.
3. DOCUMENTARY NOW (IFC) The third season still felt fresh and gave me a reason to review some more iconic documentaries too.
4. WATCHMEN (HBO) A puzzle within a puzzle. I like the way they are letting the plot unfold and answer just enough questions to keep you going.
5. CHERNOBYL (HBO) Creepy. Well filmed. Great cast.
6. BOB'S BURGERS (FOX) There is no other comfort food series than this show. It's the most smiles I can guarantee myself in a week. I pick it over the other Fox Animation shows.
7. TRUE DETECTIVE (HBO) Season 3 redeemed the show after a lesser second season. As a franchise, I think HBO should continue more like this. The time swaps were much easier to follow here than in other shows.
8. GAME OF THRONES (HBO) Not the ending I thought we'd get but overall, there were lots of things destroyed by dragons. And the battle scenes paid off some lesser episodes from the previous season.
9. DEAD TO ME (NETFLIX) A perfect show for Netflix. I love that Christina Applegate had a forum to really let loose.
10. WHEN THEY SEE US (NETFLIX) Just the type of powerful history short series that I love. Powerful in a way that The Wire is when it's rolling.
Because there are 502 TV shows across the networks, cable, Netflix, Amazon, Hulu, Disney+, and your favorites. I'm not even sure the term "TV show" is correct anymore. Maybe it's just "Show." And you know those people who say, "It's on my list" but they don't even have a list? Well, I actually have a list and it might be ten years from now but I seem to get to all of these eventually.
BEST SHOWS THAT I DON'T WATCH (yet) (or have just started)
1. RIGHTEOUS GEMSTONES (HBO) Shamed that I didn't start this when it was on.
2. BETTER THINGS (FX) This is that show that I see commercials for on every other FX show that I watch and always think it looks hilarious.
3. MR. ROBOT (USA) I've been meaning to get to this for the past three years.
4. FLEABAG (AMAZON)
5. BIG LITTLE LIES (HBO)
6. CASTLE ROCK (HULU) I really need to get going on this show.
7. EUPHORIA (HBO) The short scenes I've watched look hilarious.
8. WHAT WE DO IN THE SHADOWS (FX) I know, I know. Don't give me grief.
9. BARRY (HBO)
10. DARK (NETFLIX) This has escaped me for a couple seasons.
BEST TV DEBUTS OF 1989
We're in this Golden Era of TV and people will often ask "When did this really start?" Maybe it wasn't actually started in 1989 but the seeds were planted. Here's the best TV shows that got their starts in 1989.
1. THE SIMPSONS (FOX) Debuting in December of 1989, this show really played an important role in pushing some boundaries in culture. Today, it exists as a connection to these older days but it doesn't feel like a 30-year-old show.
2. SEINFELD (NBC) One of the defining shows of the '90s got its start here and the way we looked at sitcoms was never the same.
3. QUANTUM LEAP (NBC) Sci-fi done smartly.
4. COACH (ABC) I caught up with this comedy later on in the '90s and it's hilarious.
5. THE JIM HENSON HOUR (NBC)
6. LIFE GOES ON (ABC)
7. TALES FROM THE CRYPT (HBO)
8. SAVED BY THE BELL (NBC) The death knell of Saturday-morning cartoons starts here.
9. DOOGIE HOWSER, M.D. (ABC)
10. ALIEN NATION (FOX)
BEST ADS OF 2019
You remember the way I like trailers almost as much as movies? Ads are even more intriguing. One, there are fewer actual old-time commercials anymore and for fewer and fewer products. Two, where do you even sit still for them anymore? For me, it's mostly during sporting events but even then, I usually have to see them in another setting to know to watch them. It has turned into the Internet showing me these fine little movies.
1. AVIATION GIN – GIFT RESPONSIBLY. Sequel commercials are great and even better when the wink is to another product like the Peloton ad.
2. SIPSMITH GIN – WE MAKE GIN NOT COMPROMISES. Put a swan in your ad and I'm in.
3. JIF – SQUIRREL. The surprising and disturbing image at the end make this unforgettable.
4. RENAULT CLIO: 30 YEARS IN THE MAKING. Is it schmaltzy and manipulative? Yes and yes and it's a beautiful 2-minute and 30-second story that is rich with emotion.
5. SICKKIDS VS: THIS IS WHY. If you can make it through children in the hospital while a children's choir sings Nine Inch Nails' "Hurt" without coming to tears, then I don't know what hope there is for you. Take all my money, Sickkids.
6. MEDMEN – THE NEW NORMAL. For those wondering what Spike Jonze is up to.
7. ARGOS – BOOK OF DREAMS. Best drumming advertisement since the Cadbury Gorilla. And Simple Minds!!
8. NIKE – DREAM CRAZIER. Serena hits it out of the park with this monologue about women in sports. "It's only crazy until you do it."