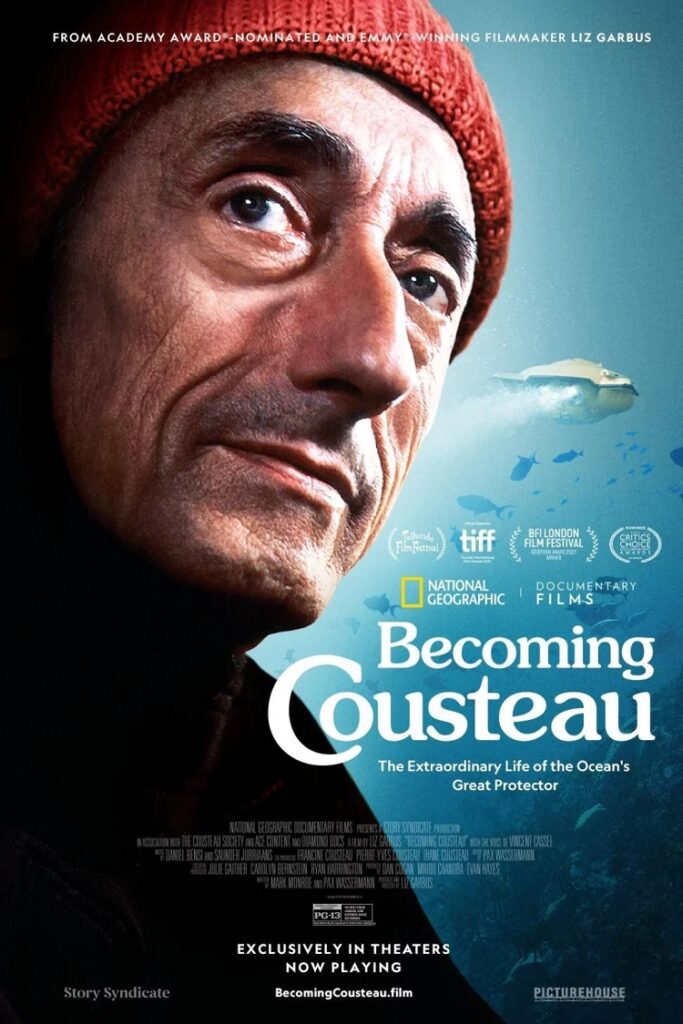 Decades before David Attenborough became a household name in the U.S., Jacques-Yves Cousteau was the king of nature documentaries. Along with his trusty crew and family on his iconic ship, Calypso, he travelled oceans around the world to document marine life, becoming so ubiquitous that he made an easy subject for homage and parody in Wes Anderson's film, The Life Aquatic with Steve Zissou. If you watched TV in the '60s or '70s, he was seemingly inescapable, constantly popping up in specials wearing his signature red beanie as he ventured across the seas. However, he was also fairly old by the time he reached peak fame, so this fascinating new documentary by director Liz Garbus aims to explore his entire adult life to provide a complete picture of the man.
As described in the film, Cousteau entered the French Naval Academy at 20 as a pilot until he was permanently grounded by injuries sustained in a car accident. He initially turned to swimming as physical therapy, which led to free diving and the urge to go even deeper, driving him to find an engineer to work with him on developing a tank-based breathing apparatus dubbed an aqualung but now universally recognized as scuba. Amazingly, the film includes black and white footage of his snorkel dives as a young man, showing that even from early adulthood he recognized the value of documenting his adventures.
It's fascinating to learn how his accidental passion for diving led to an incredible career, as he first convinced his Naval superiors of the commercial salvage applications of his scuba equipment in the aftermath of World War II, then parlayed his deep sea explorations on a borrowed Naval ship into financing for his famous Calypso, then sold film and TV producers on the entertainment value of his adventures. Garbus makes the case that every career step he took was in service to his love of the ocean, especially after his explorations forced him to reckon with the devastation being caused by man.
Shockingly, Garbus reveals that Cousteau's crew is directly responsible for the great current wealth of Abu Dhabi, as they performed the first dives to locate oil under the sea. Cousteau's small cut of that wealth allowed him to upgrade his ship with radar and sonar and fund further expeditions and inventions like his underwater movie camera. While the source of this income stream is distasteful, the end result was once again to secure his continuing adventures, and his upgraded equipment allowed him to reach even more people thanks to works like his Oscar-winning debut film, The Silent World, as well as his successful decade-long TV series, The Undersea World of Jacques Cousteau.
His later years were devoted to trying to convince world leaders of the urgent need to address issues such as pollution, overfishing, and climate change. As he became increasingly distraught about climate change, he utilized his worldwide fame to broker a still-active agreement between 26 countries to leave Antarctica untouched for 50 years, while also continuing to speak around the world about the perils facing our shared environment.
Garbus primarily relies on archival footage rather than narration or new interviews to craft her portrait. In order to bring Cousteau's own writings to life, she employs occasional voice over by esteemed actor Vincent Cassel, serving as a fine substitute for Cousteau with his French-inflected English. The footage is assembled in chronological order and touches on all aspects of his entire adult life including both of his wives and the tragic death of one of his sons in a helicopter accident. Where other filmmakers likely would have leaned heavily on new interviews with Cousteau's associates, Garbus wisely chose to sift through the mountain of Cousteau's own footage and writings to let him tell his own story. She has assembled a loving and informative tribute to this titan of oceanography and conservation, ensuring that his legacy will continue to shine in this century.
Becoming Cousteau is now playing exclusively in select theaters. For more information, visit National Geographic's website.