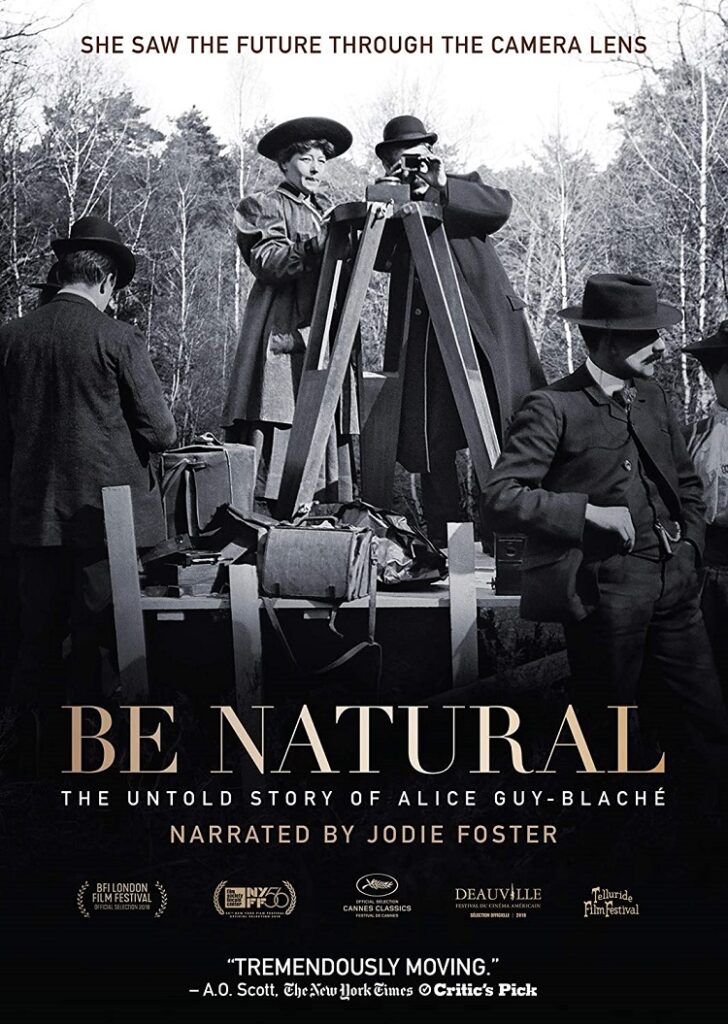 As someone who spent time studying film in college, I was taught about the early pioneers of film like the Lumiere Brothers and Thomas Edison. But until watching Be Natural: The Untold Story of Alice Guy-Blache, I had never heard of Guy-Blanche or her contributions to the film industry. But I am far from the only one who has never heard of this revolutionary woman and her contributions to the art form as they have been forgotten, overshadowed, and credited to other people. But this documentary is hoping to help change that. Be Natural iswritten, directed, edited, and produced by Pamela B. Green and co-written by Joan Simon. The film is based on the book Alice Guy-Blache, Lost Visionary of the Cinema by Alison McMahan andis narrated by Jodie Foster.
The title of the film is taken from the direction that Guy-Blache would give her actors to just "be natural". Be Natural not only follows the life and work of Guy-Blache but the work of Green and Simon and the lengths they had to go to tell Guy-Blache's story. From tracking down distant relatives, to spending extensive hours in various film archives, Green and Simon's passion to tell Guy-Blache's story is evident throughout. This documentary combines archival footage of Guy-Blache's films, interviews with Guy-Blache, her daughter Simone, film notables, photographs, and beautiful animation. The film is primarily in English with some French that is subtitled during the interview footage of Guy-Blache.
Be Natural is not only just about Alice Guy-Blache, and Green and Simon's journey, but it is about gender politics and how through both careless and deliberate moves, Guy-Blache was essentially written out of cinema history. She made her first film in 1896 and had a career that spanned over two decades and resulted in 1000 films. Guy-Blache was not only the first female director in the film industry, she was also the first director to use the new medium of film to tell a story instead of just document a place or action. And thanks to the diligent work of film historians, filmmakers, and her fans, the history and legacy of Guy-Blache has been unearthed and is now being preserved.
While I wish the film had been more conclusive about the fate of her films and there were some editing issues with the overall product, Be Natural is a film that needs to be seen. It truly documents not only Guy-Blache's work but how silences in history are created and the intense amount of work that it takes to fill in those silences. Green does a good job of documenting the fact that bringing light to the work of this woman was not only time consuming, but that her legacy is still questioned by those in power who have never questioned the dominant narratives.
Be Natural: The Untold Story of Alice Guy-Blache is from Zeitgiest Films and is distributed by Kino Lorber. It is available on DVD on August 20 and has a runtime of 103 minutes.