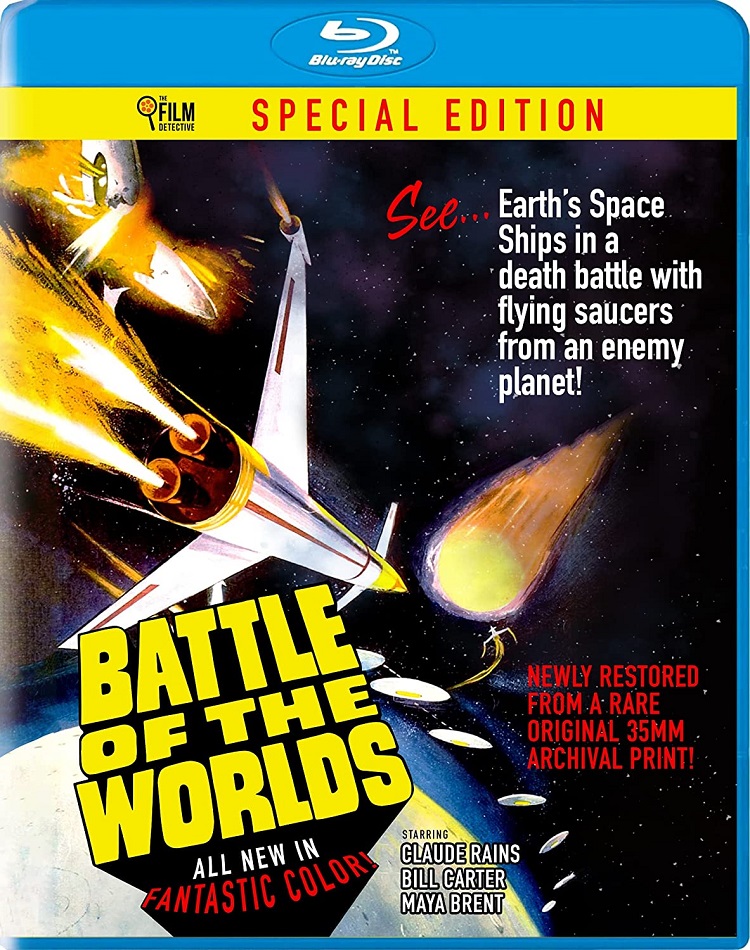 In a time of incredible special effects and science fiction becoming more reality than fiction, it can be difficult for film audiences to truly appreciate the early films of the sci-fi genre. However, many of these films deserve credit for paving the way for the films that audiences hail today. One such film is Battle of the Worlds, the 1961 science-fiction classic directed by Italian filmmaker Antonio Margheriti. Set on a futuristic Earth and in space, when a runaway asteroid named "The Outsider" collides with the ego of a scientist who claims to know more than his colleagues, the fate of Earth is put into danger. Battle of the Worlds was filmed in Italy, and the film stars Bill Carter, Umberto Orsini, Maya Brent, Jaqueline Derval, Renzo Palmer, and the legendary Claude Rains. And now The Film Detective which is the, "one-stop source for watching classic feature films, cult classic movies, and hundreds of hours of Classic TV," has released this movie on special-edition Blu-ray and DVD. 
This movie is truly an early sci-fi gem. From the practical effects to the use of Earth's landscape to communicate an exotic and utopian future, this film is a joy to watch. It also has some classic lines and truly witty dialogue that really helps give dimension to many of the film's characters. And as sci-fi films tend to do, it reflects and wrestles with ideas that challenge societal and cultural norms. In the case of Battle of the Worlds, it's no coincidence that the asteroid that threatens Earth is known as "The Outsider" as original audiences were wrestling with the conflicts surrounding immigration, racism, and Civil Rights.
This new version of the film is presented from a 4k scan of the original 35mm film print. The bonus features of the Blu-ray and DVD releases include the original essay Margheriti's World by author Don Stradley, a full-length commentary track with film historian Justin Humphreys, an insert with a special surprise for The Film Detective fans, and the featurette, A Cinematic Outsider: The Fantastical Worlds of Antonio Margheriti by Ballyhoo Motion Pictures. All the bonus features are great, but I especially enjoyed the featurette as it not only covers Battle of the Worlds but it also gives larger context to early sci-fi films and especially those made by Antonio Margheriti.
Battle of the Worlds has a runtime of 1 hour 24 minutes and the special edition Blu-ray and DVD are available now.