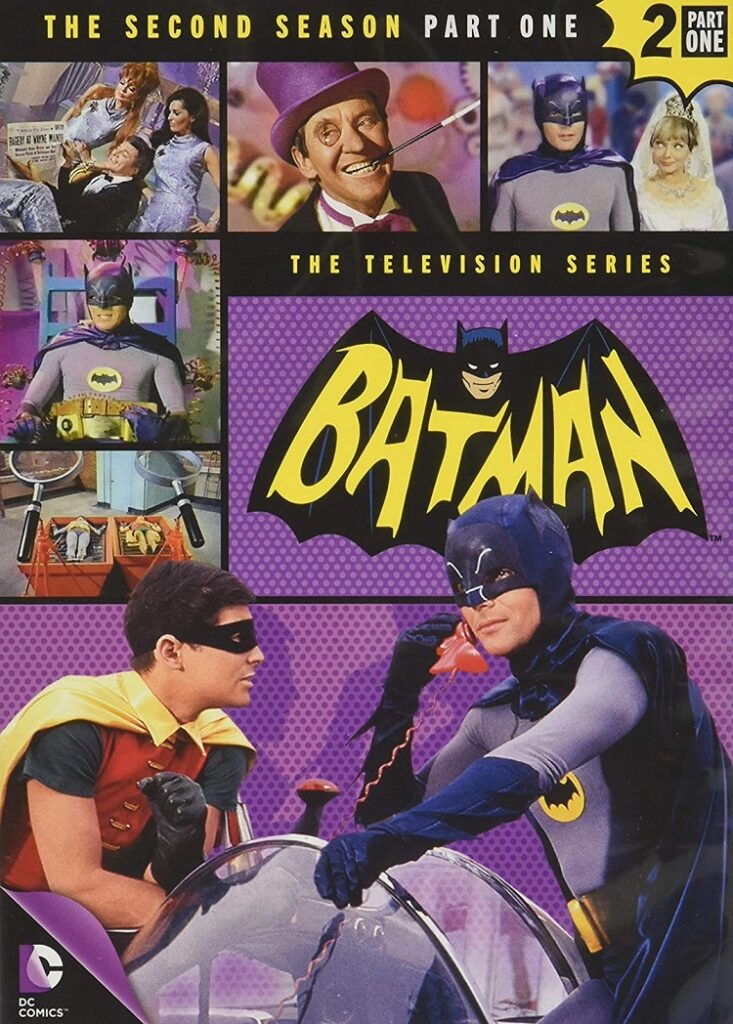 After years of legal rights issues needing to be sorted out (and likely a fascinating story in its own right), the legendary Batman television series (1966-68) finally made its Blu-ray/DVD debut last November with The Complete Series set and the simultaneous release of The Complete First Season on DVD. Those who bought the latter can continue adding to their Bat-collection with the next installment from Warner Brothers, The Complete Second Season, Part One.
The camp comedy style from the '60s series was so successful it was how the DC Comics character was best known to the general public until Tim Burton presented a more serious iteration of character with his 1989 film starring Michael Keaton. The cast, particularly leads Adam West (Bruce Wayne/Batman) and Burt Ward (Dick Grayson/Robin), do a great job performing without knowing winks to the audience. It is the difficult task to play silly so seriously, and the marvelous execution of the writers' teleplays is a major factor in the series being so memorable.
During the 30 episodes in this set, Batman and Robin battle villains from the comics who appeared previously in the first season: Catwoman (Julie Newmar) twice, Penguin (Burgess Meredith) twice, and the Joker (Cesar Romero). Also returning are King Tut (Victor Buono), a character created for the show, and Mr. Freeze (Otto Preminger, taking over the role for George Sanders, before Eli Wallach took it over from Preminger the next time the character appeared), originally known as Mr. Zero and renamed in response to the series.
This season also saw the expansion of Batman's Rogues Gallery with the addition of a number of villains created for the show: the Archer (Art Carney); the Minstrel (Van Johnson); Ma Parker (Shelley Winters); Egghead (Vincent Price); Marsha, Queen of Diamonds (Carolyn Jones); Shame (Cliff Robertson), and Chandell/Harry (Liberace playing twins!). New to the series but previously seen in the books is the Clock King (Walter Slezak).
Other performers appeared in Gotham through cameos where they met the Dynamic Duo during their iconic Batclimb up and down buildings, such as Dick Clark, Don Ho, and Sammy Davis, Jr. Even wilder were the cameos of actors in character, creating a mind-blowing extended universe thanks to appearances from Ted Cassidy as Lurch from The Addams Family, Bill Dana as culturally insensitive José Jiménez from The Bill Dana Show, Howard Duff as Sam Stone from Felony Squad, Werner Klemperer as time-traveling Colonel Klink from Hogan's Heroes, andVan Williams and Bruce Lee as Green Hornet and Kato (who return later this season in two episodes, available in the Part Two set).
Batman is a must-own for fans of superheroes and TV comedy, so pick up the recently released, episodes-only set Batman: The Complete Second Season, Part One.