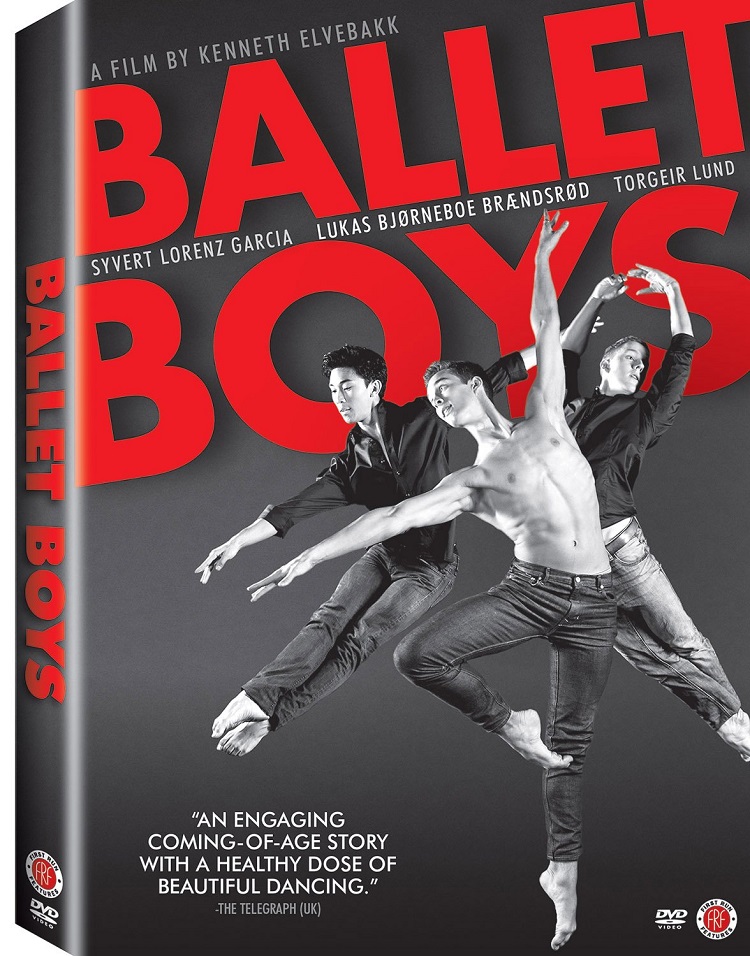 Yet another wonderful dance documentary from First Run Features, Ballet Boys (2014) takes balletomanes to Norway, where we meet young teenagers Lukas, Syvert and Torgeir. They're a tightly knit trio because unlike other young guys their age, the majority of their days and evenings revolve around stretching, perfecting their double tours and performing. Pre-professionals in their respective dance careers, each has reached that proverbial fork in the road: carry on dancing for another several years only to be faced with the possibility of not securing a spot in a company—or hit the books in all earnestness to build the foundation for a solid future?
In the first half of the film, writer and director Kenneth Elvebakk splits screen time equally between the three dancers in a rather quick series of interviews and snapshots of home life and life in the studio. In doing so, he makes it fairly easy for viewers to predict who among the three will accomplish the most in dance during his teen years. Said dynamo seems to steal the spotlight, albeit humbly, in the latter half, but because Elvebakk's piece is really a portrait of camaraderie, and because no one is suggesting which outcome is the best, his friends remain crucial elements to the story.
Syvert, in an interview at age 14 (the documentary spans four years), says he would consider a career as an engineer should dance not pan out. He also admits that he would rather be a "white Norwegian" than an Asian Norwegian, although he gives no clear reason. Torgeir confesses that yes, sometimes he wants to quit dancing, even though he is well aware of the value of young and talented male ballet dancers. And Lukas—well, there is no Plan B for Lukas. You get the sense that they know they're supposed to have all the answers, but in spite of their commitment to their art, they exhibit an age-appropriate reluctance to think too far ahead.
Although we don't witness their social lives around non-dancers, likely because most ballet dancers on a professional track have little time for anything beyond the studio and studies, there is plenty of charming footage that catches Syvert, Torgeir and Lukas being goofy teenagers—but goofy teenagers who are bound by their unique pursuit. Just like a group of jocks, some of their most authentic moments take place in the changing room. But instead of … whatever football players talk about in the locker room, these guys talk dance belts, about the joys and woes of dancing with girls, the "sick" (in the best sense) male dancers of Cuba—and about their highs and lows.
When faced with two of the most stressful aspects of classical ballet—international competitions and auditioning for admission into prestigious dance schools—pivotal results force them to make decisions that can forever alter their life's course. It's these tense and sometimes heartbreaking scenes that reveal how deeply rooted in their identity as dancers they are. If they can't make it, who are they and what will they be? The voice of practicality may suggest an array of other interesting professions—particularly one that doesn't tear away at the body little by little and has a retirement age above 45. But the soul doesn't quite buy it.
As these corners are turned and new paths are forged, the dynamic between the group begins to change. Not for better or worse, but because it's natural. And when one boy gets a prestigious offer the others don't, there's a refreshing absence of jealousy. (If there was any, it was edited out.) Instead there is sincere concern that their friend is making the right decision and, most importantly, that he's happy with his choice.
The promo blurb for Ballet Boys, or Ballettguttene in Norwegian, describes it as Billy Elliot meets First Position. That's pretty spot on, because in addition to chronicling how young people juggle their academic life with their need to train, perform and compete, Ballet Boys also shows how family members relate to the dancers and how willing they are to support their costly dream. Some families are more supportive than others, but one thing is universal: the sacrifice is so great that the boys need the help of their families to stay in dance.
There's nothing gritty or cutthroat in this 72-minute film—only a positive look at young men engaging in an incredibly difficult discipline that falls outside the societal norm for their sex. The most inspiring part is that they do it with the utmost poise and dignity.
Besides the documentary, which is in Norwegian with English subtitles, there are seven bonus shorts featuring Lukas, Syvert and Torgeir rehearsing and performing. Ballet Boys has been making its rounds in select North American theaters and is now available on DVD and VOD.