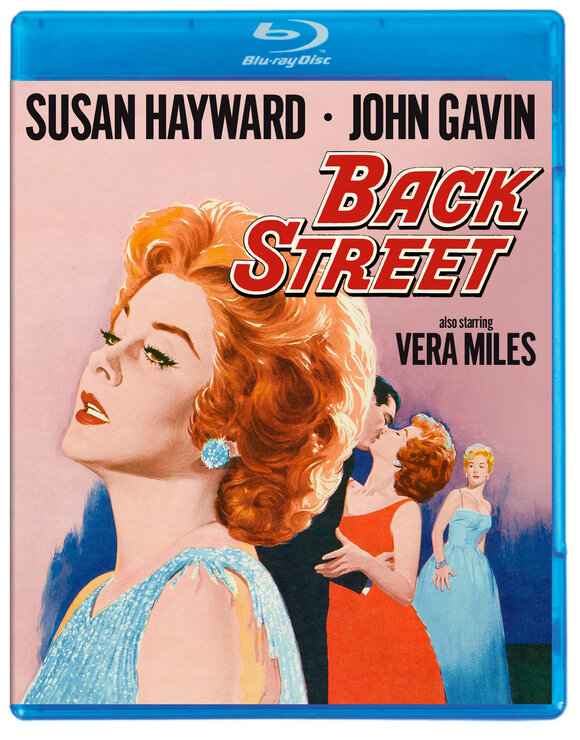 I'm not sure I believe in the idea of a 'guilty pleasure'; but if I did, Back Street (1961) is a movie I'd add to my list of cinematic bon-bons I shouldn't love but do.
Not known for women's weepies, director David Miller (Lonely Are the Brave) made one of the swankiest and best ones here, a Ross Hunter (All That Heaven Allows) Eastmancolor production based on the novel by Fannie Hurst (Imitation of Life) that was adapted twice before in 1932 and 1941. Susan Hayward and dreamy John Gavin play two strangers who fall in love but can't marry because of circumstances outside their control. Despite this, their hopeless affair lasts years, until his boozy, philandering shrew of a wife (Vera Miles) goes berserk—and tragedy ensues. 
Hayward is solid, and Gavin (did I mention how astonishingly cute he was?) is no less wooden a handsome lead than Rock Hudson was in his prime. But their pairing never suspends disbelief. Perhaps Hayward, then 44, was a mite too old for the part. Gavin, on his end, is entombed by the bland dialogue. There's just no heat. That said, Miles is a fierce wonder (has she ever given a weak performance?), as is Stanley Cortez's rich cinematography, which turns the movie into a virtual Harper's Bazaar of feast-your-eyes-on-this production design and the very finest in women's fashion (furs by Alixandre, gowns by Jean Louis, and jewels by David Webb).
I had heard Back Street was lower-echelon, a great-looking but forgettable tearjerker. And it looks magnificent, more so than I could have expected. I'm a proud sucker for corny potboilers that double as lush travelogues, and Back Street is one of the most sumptuous, and unironically campy, soap operas I've seen, surpassing even the Vincente Minnelli Technicolor dreamscapes of the time for pure glitz. Maybe it was the mood I was in when I watched it, but I dug it.
It matches the best Douglas Sirk films, and that's saying something.
Kino Lorber's Blu-ray does justice to the movie. (I can imagine director Martin Scorsese mooning over the visuals.) It comes with audio commentary by film historian David Del Valle and the original trailer, plus a bevy of trailers for other Kino Lorber Blu-rays.