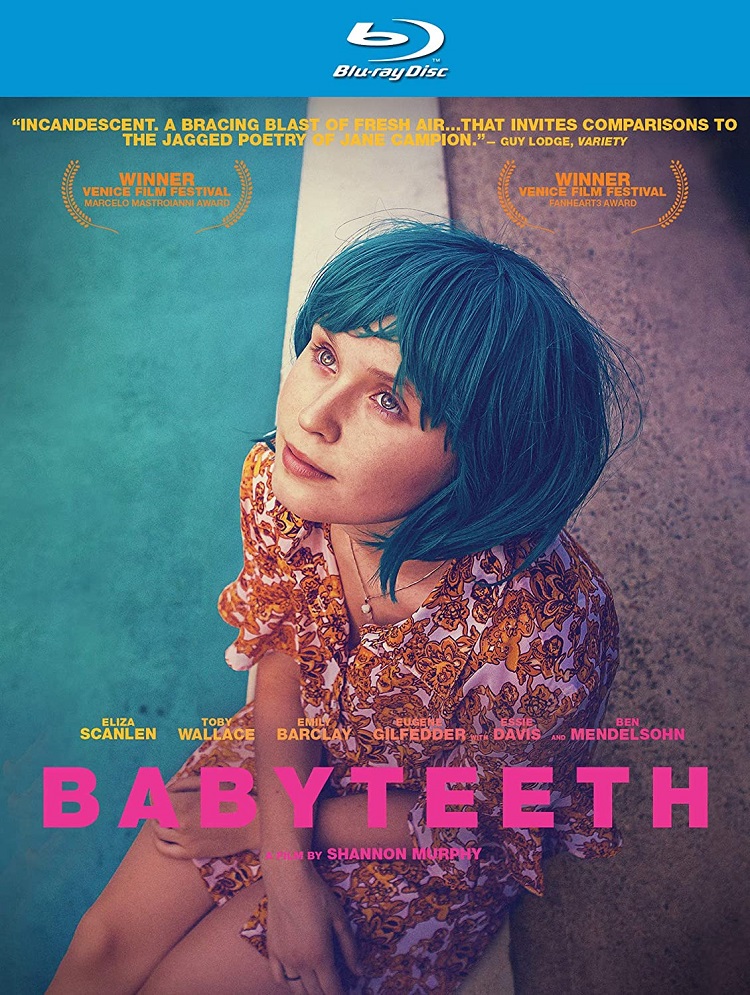 Written By Ram Venkat Srikar
It's been a while since I shed a tear while watching a movie. With Babyteeth, though, I shed more than a few tears, after a very long time, and the first time in a teen movie. Teen movies, as a genre, have become associated with cliches of late. There is no need to name them, throw a stone at the genre and it's highly likely that you hit a cringe-ridden movie that either considers its concept the need of the hour or the plot has little gravity to hold the whole film. However, there have been fine films, over the years, with Lady Bird, Booksmart, and Call Me By Your Name, among others forefronting the genre in recent years. When carefully observed, the aforementioned films are inclined towards coming-of-age and peel off cliches of teen movies. On these lines, Babyteeth, the new Australian Indie, is not just a progressive extension to the teenage troupe but is a landmark that could metamorphose into a leading light for filmmakers who wish to channel fervent emotions through young characters, annexing a whole new layer of complexity.
Babyteeth is a coming-of-age story of 16-year-old Milla, but we know she won't live till she comes of age. Babyteeth is a story of finding love, but we discern the love story will remain incomplete. Babyteeth is about a family that manages to put together happiness, but we sadly know that it won't last forever. Milla (Eliza Scanlen, Beth from Little Women with an equally effective performance) is terminally ill with cancer, and her father, Henry (Ben Mendelson), a psychiatrist, and mother, Anna (Essie Davis), continually keep pushing the cloud of death and grief together, subsequently combating individual vexations. There's something in the film's vibe. There's something powerful with women telling women stories. Shannon Murphy, in her feature debut, twists around the treatment, where melancholia and merriment go hand in hand without confining the film's tone to a certain color. The two major feelings, happiness and sadness, never prevail discreetly, not in a single scene, and often contribute to each other. In a scene, sadness paves the way for happiness while it's the other way around in the next scene. Murphy manages to marry these two facets, and the resultant is a bittersweet meditation of death.
Milla falls in love with Moses (Toby Wallace), a 23-year-old drug addict who exhibits the least of interest in changing his life, and instantaneously opens doors for him to enter her life. A sequence of scenes that in the beginning hold houses as metaphors to beautifully manifest how a homeless Moses holds traits of repulsiveness since he could be emotionless, while a somber Milla doesn't waste a second in inviting him home for dinner the same evening she runs into him in a railway station. Their first conversion is about Milla's hair, she is smitten at that precise moment. It's funny how hair – which she would later lose while undergoing chemotherapy – precipitates the relationship, while Milla's wigs stand as a testament to her fluctuating spirits that exist above ever-exiting heartache.
It's wonderful how Murphy and writer Rita Kalnejais shaped these characters, making sure none of them are left out despite their varying screen times. I clearly remember inquiring what the characters would be doing when they are not on screen. Almost every character – a pregnant neighbor, Milla's violin teacher, a young kid in the violin class, and Moses' young brother who has no dialogues – exist because they are vital attributes in molding characters in a non-existent story. Henry, being a therapist, is on an errand to stitch up his wife's acceptance that their daughter might not live long enough. When Moses is asked to leave their home by Henry, the former goes to his home, where we earlier saw the mother rejecting him. This time around, as he stands behind a glass door, his younger brother on the other side smiles and is scared when Moses asks him to come close. As the mother enters the scene, things escalate on an emotional level and end with a broken Moses spitting on the door. The edit oscillates from a shot of three dogs individually separated in cages to Moses, the brother, and the mother, speaking how each of them is confined to express love by an invisible cage. The story is as much about the impending death of Milla, as much it is about the birth of Moses.
There is not even a remote hope that the inevitable cloud of death might skip pouring grief above their home. The parents and we know this, but as I said earlier, the film's not entirely tragic in its vibe
Babyteeth is more about the temporary moments in temporary life than life itself. Sean Murphy crafts an earnest film that ensures you have a tear crawling down your cheek while also smiling. Only films that succeed in making the audience invest in these fictional characters manage to do that.
P.S.: The last time that made me cry was Jérémy Clapin's I Lost My Body (Oscar-nominated animation feature), and tear count was definitely higher this time around. So, you can see the proportion of tears to the quality of the film, right?
Babyteeth will be on demand June 19