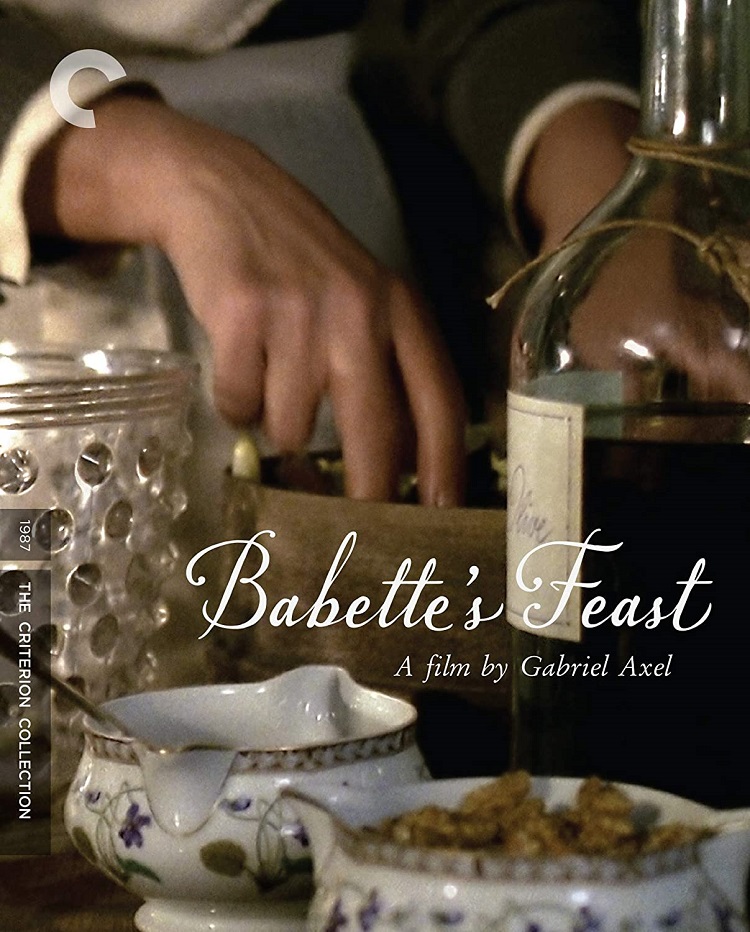 About once a month, we host a Foreign Film Night at our house. We invite a few friends over, we munch on some grub, imbibe some drinks, enjoy a film, and then sit around talking about it. Always, it is a great time. Normally we don't pick out the film beforehand. Sometimes, there will be a specific genre planned or maybe we'll grab a few choices but then we let whoever is coming take a vote. This past March we held a bonus film night, a special Easter presentation, and I specifically chose Babette's Feast for us to watch.
It is a deeply spiritual film. It is very much the perfect film for that religious holiday. Christians throughout the world partake of the Eucharist on Easter Sunday, eating and drinking a symbolic meal that represents the very heart of their religion. In a similar way, the characters of this film partake of a grand feast that fills not only their bellies, but their very spirits as well.
Based upon the short story by Isak Dinesen, the plot involves Babette (Stephane Audran), a superb French chef who flees France during the Fourth Revolution to the remote western coast of Denmark. There, she is taken in by the local minister's sisters – Martine (Birgitte Federspiel) and Philippa (Bodil Kjer) as a housekeeper and cook.
The village is cold, wet, and drab. The landscape is barren – all gray plains and dreary seas. The village doesn't fair much better. For years it was run by the minister who preached a gospel of submission. Christianity, in his view, is about not indulging in any sort of temporal pleasure, but waiting patiently for the grandeur of heaven. Thus the village itself is a foreboding place filled with practical furniture, gray walls, black dress, and very little color or joy.
In a series of flashbacks, we see the sisters had amiable suitors but each in turn were rebuffed by their father who has a dim view of marriage. The sisters resign themselves to a life of piety, even after the minister dies. When Babette enters their lives, the minister's flock is small in number and old in age. They constantly bicker and quarrel with one another and their religious life seems filled with more resentment than zeal.
Thankful for being taken in, Babette resigns herself to this life as well, though there are moments when we can see she longs for her lush life in Paris. There is a marvelous scene in which the sisters are teaching her to make the bland food they eat each day. Babette says nothing, but the horror behind her eyes is telling. Years and decades pass by and never does Babette mention who she really is, nor does she try to change the village in anyway. She learns to love the villages and especially the sisters despite the dreariness of the setting.
Babette's connection to her old life is a lottery ticket that a friend buys for her once a year in Paris. After 14 years of living this austere life, she learns that she has won – 10,000 francs worth. The villagers worry that their dear friend will leave them for the luxuries of Paris, but Babette, instead, decides to spend her fortune on a grand French dinner for the village.
She arranges for dinner supplies to be sent to the village. As the exotic preparations arrive – including fine wines, fresh spices, a cage of quail, and an enormous tortoise – the villagers are overwhelmed. In hushed voices they discuss these strange foods and marvel at how they could eat such things, wondering perhaps if it wouldn't be sinful to do so. But they agree to eat every bit without grumble for their deep love of Babette.
Babette prepares the titular feast with wonder, grace, and love. The villagers do indeed eat every bit and drink every drop of wine and as the meal continues they, ever so slowly, warm up to it and are filled to the brim with joy. Old loves are rekindled, old arguments forgotten, and the village is renewed in spirit and overcome with love.
Babette's Feast is a rare sort of film that is magnificent in its artistry and overwhelming in its depth. For our monthly movie nights, we normally have but a handful of people show up. For this film we had over two dozen and not a single soul was not moved by the end.
The film is magnificently shot. Even the shots of the bland, dreary village are striking in their subtle beauty. Ah, but when it gets to the feast, one is almost overwhelmed by the sumptuousness of it all. The richness of color and depth of its gorgeousness knows no bounds. Though I had a fine meal before the film, my belly rumbled with anticipation as I watched the sensual feast being prepared and eaten on the screen. It is a film to make a foodie out of even the most die-hard of fast food-ites.
The DVD presentation is astonishing. For comparison I pulled out a worn-out, earlier copy of the movie. This new Criterion version makes that DVD look like a beaten-up VHS print. This new version pops in its crispness and drops my jaw in its beauty.
Extras include interviews with director Gabriel Axel and actor Stéphane Audran; a documentary about Karen Blixen, the story's author (she wrote under the pen name Isak Dinesen); a visual essay by filmmaker Michael Almereyda; an interview with sociologist Priscilla Parkhurst about French cuisine; and a booklet featuring an essay by film scholar Mark Le Fanu and the entire short story by Dinesen.
Babette's Feast is a sumptous, delightful, deeply moving film. Criterion's restoration of it is superb; never has it looked so marvelous. As usual their extras increase one's knowledge of the film, and its place within the culture. An absolute must-have for any lover of film.