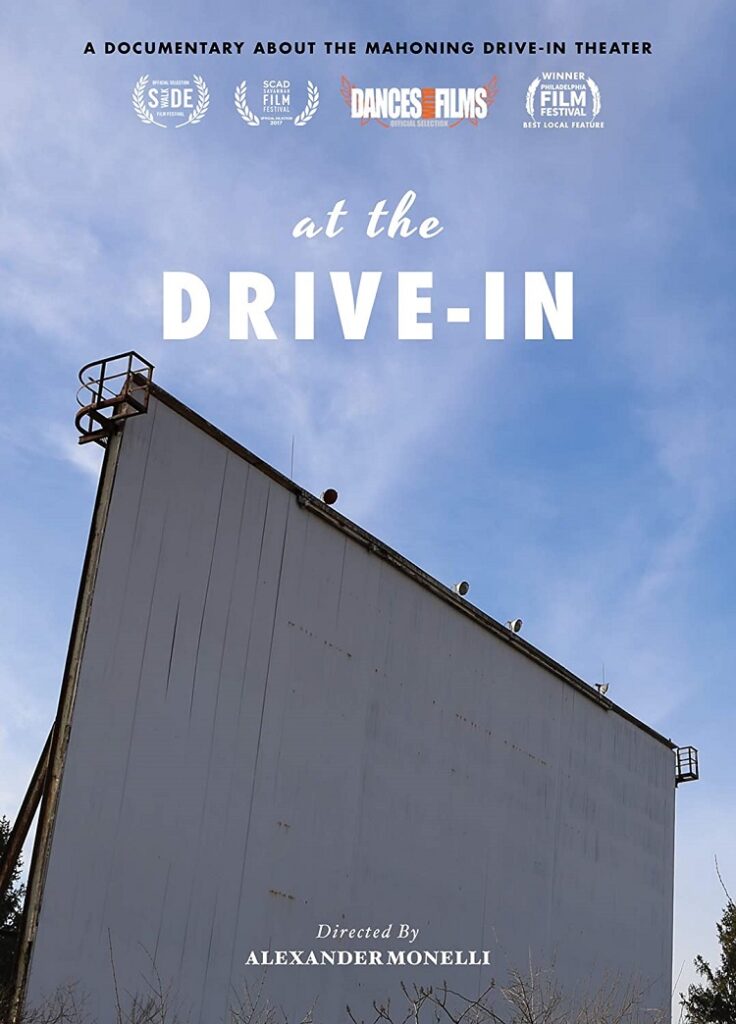 Director Alexander Monelli originally intended the documentary At the Drive-In to focus on the near-extinct drive-in movie theatre industry in the U.S. After meeting the crew at Mahoning Drive-In in Lehighton, Pennsylvania, he discovered that the Mahoning's story offered enough material for a film on its own.
We meet Jeff Mattox, the drive-in's manager and projectionist, who has worked in the theatre-exhibition industry for most of his life, during the fim's first scene, as he opens up the concession stand/projection room. He still runs 35mm prints on a behemoth, analog projector, since he can't afford the industry-mandated $50,000 digital projector. As a result, the Mahoning can no longer run new films.
Rather than close down the theatre, Jeff runs 35mm prints of The Wizard of Oz, Fast Times at Ridgemont High, and other 20th Century favorites – eventually, he's joined by Matt McClanahan and Virgil Cardamone, two former Temple University film students. They help Jeff run the theatre, along with a cadre of other 20- and 30-something film aficionados who work weekends for free during the drive in season (April through Halloween).
The theatre's in the middle of nowhere in rural Pennsylvania, and two of the young volunteer staff spend the weekend sleeping on air mattresses in the concession building rather than make another round-trip drive between the theater and home. Some crewmembers wear costumes to entertain filmgoers as Jason, Freddie, or zombies from Night of the Living Dead during special horror-themed screenings. Some weekends are more profitable than others, but more young families and couples from the region (and beyond) venture out to the Mahoning for a night of retro fun. Word of mouth boosts attendance as the weeks go by, and the movie studios gladly send the drive-in 35mm prints of Jurassic Park and other pre-digital era movies.
This compelling David vs. Goliath story has you rooting for the ragtag bunch of film aficionados. The unbridled enthusiasm of the young volunteers is heartwarming, and it shows that vinyl isn't the only old-school form of entertainment the under-40 crowd acknowledges.
At The Drive-In won best local feature at the Philadelphia Film Festival in 2017 and was an official selection at Dances with Films. The DVD includes deleted scenes, director and cast commentary, and a Q and A from a screening in Yonkers, New York.