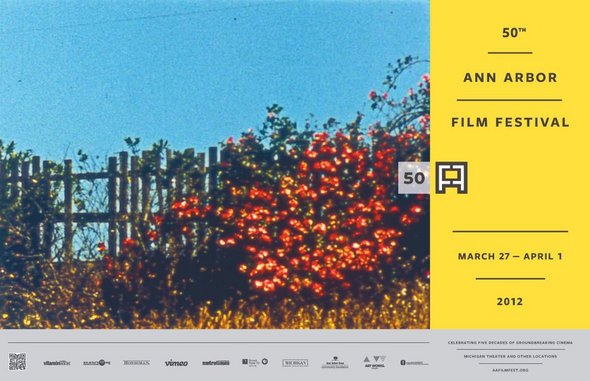 Written by Ben Platko
Poetic Injustice – Short Films from the Arab World
The "Poetic Injustice" program of short films from the Arab world didn't have the energy of the Student Film Showcase, or the charm of Out Night, but the films were just as good. Individually, most were a little weak, but together they created a very strong pastiche of a war-shaken culture. Particularly moving were Mona Hatoum's Measures of Distance and Bouchra Kalili's Mapping Journey #7 (the festival program lists this as Mapping Journey #5, but #7 was screened).
Measures of Distance is a collection of narrated letters to Hatoum from her mother during the Palestinian exile in war-torn Lebanon. In Mapping Journey #7, a man narrates his journeys through Spain, France, and Italy while tracing his route in marker on a map. These are both very simple films, but it is often the simplest things that are the most poignant.
The Strawberry Tree – a documentary that isn't.
Simone Rapisarda Casanova's The Strawberry Tree is a beautifully photographed portrait of a fishing village in Cuba just weeks before it was destroyed by Hurricane Ike. It's a documentary, but in a very loose sense of the word: it's more of a moving pictorial – it's so unique, and I've never seen anything quite like it. Throughout the film, the subjects are aware of the camera, and are often seen joking with Casanova as he tries to capture their lives on tape. This interplay between filmmaker and subject, incredibly long shots, and the personalities on the screen all serve to create (or perhaps highlight) an intimacy that exists between the screen and the seat.
About the title. There is a tree in Cuba that, when seen from a distance, appears to be growing strawberries; colloquially it became "the strawberry tree." This is not a phenomena unique to Cuba, though: there are "strawberry trees" all over the world – North America, China, Europe – and none are the same species. Casanova was in attendance at this screening, and when asked about the title, he said that he felt it was a good metaphor for the film. Indeed it is: whatever preconceived notions an audience has about The Strawberry Tree, they will not see what they expected. Because of this "strawberry tree" effect, there's not really any description that can do it justice. That being said, it's a wonderful film, and you should all watch it at some point.