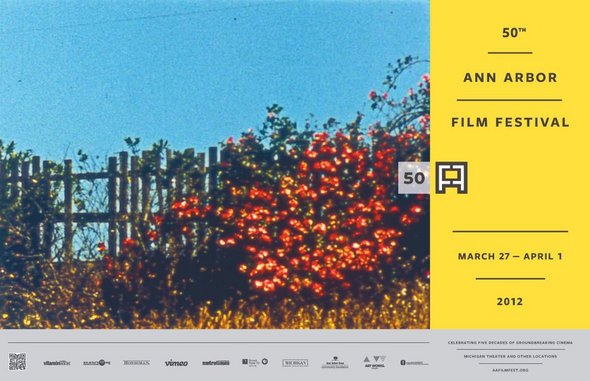 Written by Ben Platko
Tuesday night marked the beginning of a historic week. An aged George Manupelli stood on stage at the Michigan Theater and joked with a tightly packed audience as he opened the 50th Ann Arbor Film Festival. Manupelli, a professor at The University of Michigan at the time, founded the AAFF in 1962. Since then, it has become the nation's longest-running independent and experimental film festival. The festival runs through Sunday April 1st, and I'll be there all week to bring you my reactions to the cutting edge of avant-garde filmmaking.
Once everyone got over their opening-night jitters, the festival began with a screening of twelve short films. Overall, the program seemed centered on technical experimentation. Two films particularly stood out: River Rite and Tokyo – Ebisu. River Rite is a 12-minute steadicam shot presented in reverse with a smattering of music that didn't quite seem to fit right. The shots were all very well composed, and it was impeccably colored, but the final product left me wanting more than was delivered. In Tokyo – Ebisu, Tomonari Nishikawa presents the views from 10 stations along one of Japan's busiest railways. Nishikawa uses a grid to break the image on screen into squares, each square showing a different time of day from the same angle. The result is a surprisingly profound overlap of time and space.
I was pretty excited to see Shadow Cuts: billed as "The first in a four-film series, Martin Arnold directs his de-constructive impulses to the heritage of Walt Disney. The result is a neurotic re-animation that comes to life in the darkness between images, where the viewer meets his dreams and demons." Unfortunately, it came off as a five-minute epileptic nightmare with no discernible purpose.
The highlight of the night was, unquestionably, viewing It's Such a Beautiful Day. A simple stick figure animation that ruminates on life, death, memory, and time through the lens of a stroke victim. Also of note was Irma, a charming film about an aging singer/ songwriter/ luchador.
If Tuesday's program represents what the rest of the festival will be like, I can't wait to see what's in store. Come back tomorrow for a review of the student-film showcase, and "Out Night," a program of LGBT short films.