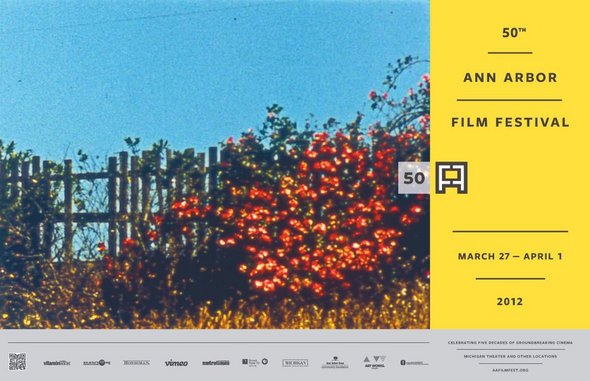 Films in Competition
Honestly, I wasn't terribly thrilled about attending this selection of competition films, namely because of Soft Palate. If you'll recall, I reviewed a piece from opening night titled Shadow Cuts, and I was less than impressed with it. Soft Palate is by the same filmmaker, and from the same "Deconstructing Disney" series of shorts. I expected it to be repetitious and pointless, but I was wrong. Soft Palate is a far superior piece: it is more restrained, it builds tension to a climax, and lets the audience back down softly.
I was very excited to see Im Freien, which translates to "In the Open," a time-lapse piece set in a mountainous region of Iceland which condenses three months into twenty three minutes. Technically, it was extremely precise, but there was so much material that it dragged on and eventually just seemed masturbatory.
Among all of the competition pieces was one historic film that screened at the 1979 Ann Arbor Film Festival: Gus Van Sant's The Discipline of DE. Adapted from the William Burroughs story of the same name, the film started as a narrative, and evolved into a pseudo-informational piece about doing everyday things easily and efficiently. It didn't have that signature Gus Van Sant sound design, but its charm and wit spoke volumes.
I think the highlight of the program came with Janie Geiser's Ricky, a warm anti-story that captivated the audience with texture and color. As a matter of fact, the entire program seemed to focus on texture as a medium. With Undergrowth's macro shots of a blind owl, and Point de Gaze's layering of colors and lace, the audience could almost feel the bumps and ridges of their fingerprints pressed against the screen.
Films by Phil Solomon
The film festival organizers are pulling out all the stops this year. In addition to competition pieces and panels on preservation and the future of film, there are many retrospectives and filmmaker-centered collections. Among those was a collection of short films by Phil Solomon. I had never heard of him, or any of his work. It was late, I was tired, the foyer was packed with people waiting to see the next set of competition films. I very nearly went home, but I pushed forward. I snaked through the crowd, and made my way to "The Screening Room" a smaller, more intimate annex of The Michigan Theater. When the program finally started, the curator handed his microphone over to Phil Solomon himself, fresh from a near-death experience during his flight from Montreal. Joking and telling anecdotes from his incredible career, Solomon introduced each piece himself.
Phil Solomon's works are challenging to describe stylistically – experimental, yes; avant-garde, yes – but applying tags to them just doesn't feel quite right. The experience of watching Solomon's films is best equated, I think, to watching clouds in a grassy field. The highlight of my night was watching a piece from 1999 titled Psalm II: Walking Distance. The title, and indeed the film itself, are references to the Twilight Zone episode, "Walking Distance." I don't know how he did it, but Solomon managed to create space and depth on film.
Now, someone's going to say, "everyone creates space on film." While that's true, space and depth take on a very different meaning in this case: it felt like there was an actual thickness to the celluloid in the projection booth; there was a negative space that you could almost taste. It was the most profound screening I've ever seen, and Solomon said that it was the best viewing of Psalm II: Walking Distance that he had seen. For those of us lucky enough to be there, it was truly a once in a lifetime experience.