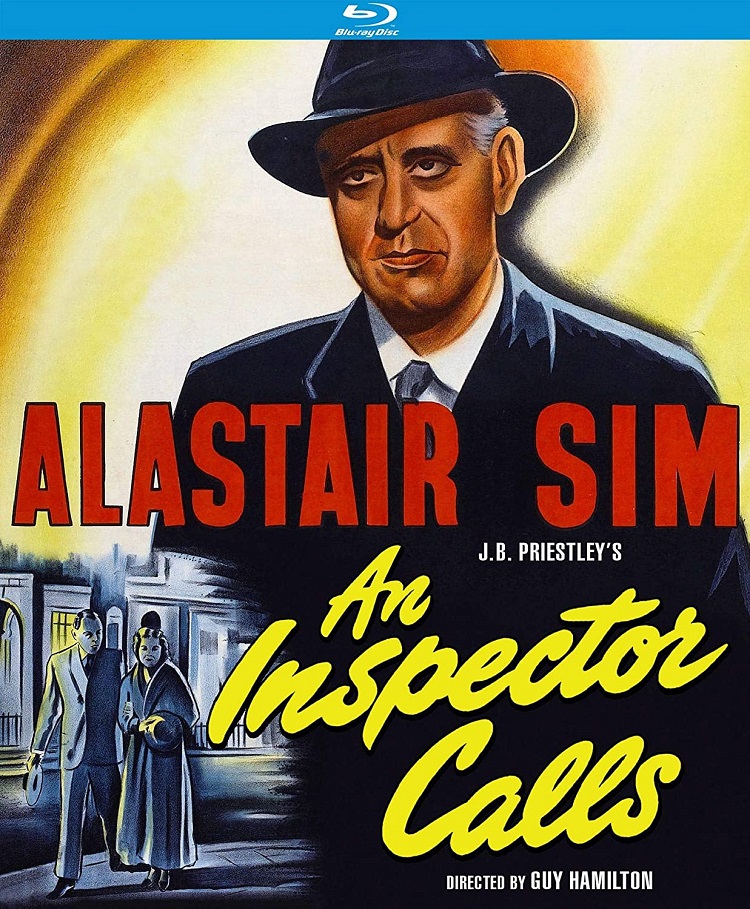 In 1912, the wealthy Yorkshire Birlings, Eric and Sybil (Bryan Forbes and Olga Lindo) have a lot to celebrate. Their daughter Sheila (Eileen Moore) has just become engaged to the successful Gerald Croft (Brian Worth). Their son Arthur (Arthur Young) seems happy-go-lucky without a care in the world. The group is enjoying a lavish dinner party when they are interrupted by Police Inspector Poole (Alistair Sim), who arrives seemingly out of nowhere to tell them about the death of a young woman, Eva Smith (Jane Wenham).
Sheila Birling: [after hearing a girl committed suicide by drinking disinfectant] Was she pretty?

Inspector Goole: She wasn't very pretty when I saw her last in the infirmary.
Based on the play by J.B. Priestley, An Inspector Calls is a classic British mystery. Did the unfortunate Miss Smith commit suicide, or was there something more sinister at play? How would a young working-class woman happen to know each member of the upper crust Birling household? Secrets and lies and more are revealed as the sly inspector digs out bits of information from some very unreliable narrators.
The film may retain some of its stagey quality, but Sims makes it gripping to watch. The main story is confined to the Birling's home, and the set design has gone overboard in layering lush and patterned fabrics and decorations to illustrate the family's wealth. Each member of the family frequently appears in close-up, in a cramped composition, to emphasize their trapped feeling as the film progresses. Director Guy Hamilton, who is known for many films, including James Bond and Agatha Christie adaptations Diamonds Are Forever, Live and Let Die, The Man with the Golden Gun, The Mirror Crack'd, and Evil Under the Sun opens the trap briefly via flashbacks as the family tells how they each encountered Eva Smith.
An Inspector Calls is more of a psychological mystery than detective story, but viewers will enjoy digging up the clues along with Inspector Poole to tell the true and complete story of Eva Smith. And watch the Birlings discover some hard truths about themselves as well.
The film is in black and white, with a running time of 80 minutes and original aspect ratio: 1.37:1, with a resolution of 1080p. The black and whites are sharp and look great on a large-scale high-definition television. English subtitles are available.
Extras include: audio commentary by film historian David Del Valle, An interview with Jane Wenham (who plays Eva Smith in flashback sequences), and trailers for Kino Lorber releases, all also directed by Hamilton – The Devil's Disciple, Force 10 From Navarone, and Remo Williams: The Adventure Begins.