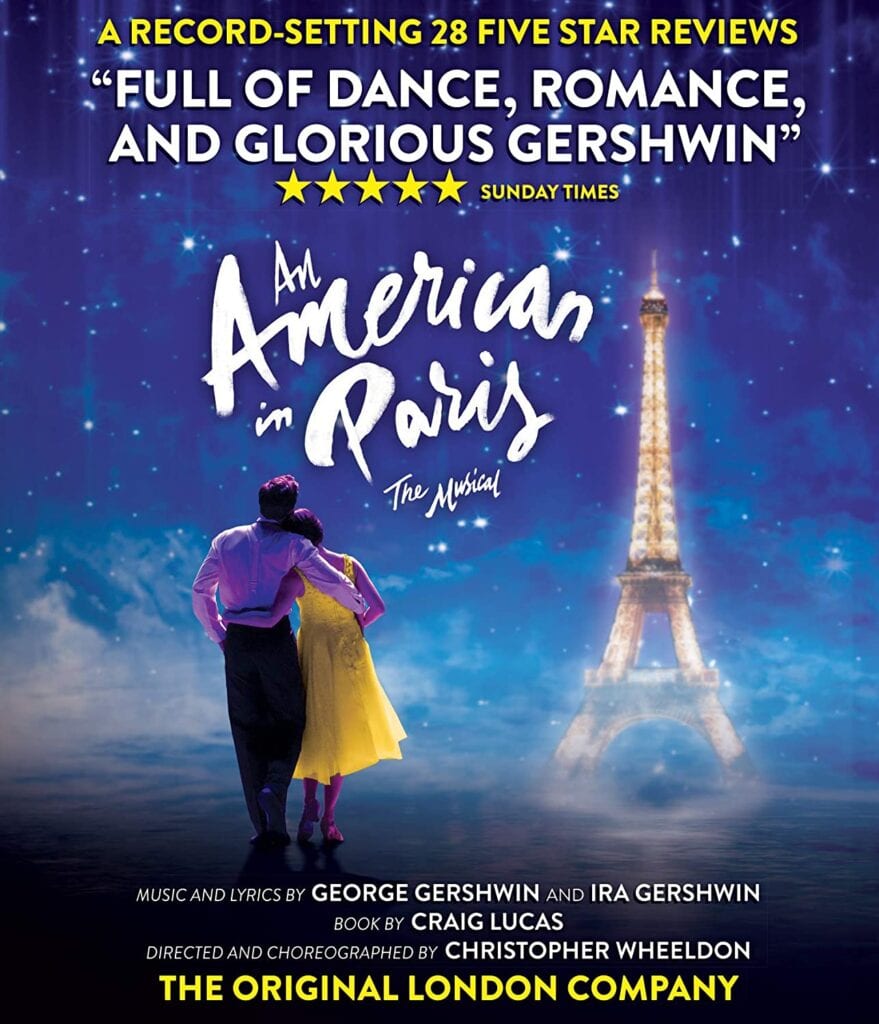 As live musicals shut down during the pandemic, recorded performances stepped in to help fill the entertainment void. The 2014 production of An American in Paris was a perfect candidate for this market, as it had already wrapped up all touring performances by 2018 so carried no risk of cannibalizing ticket sales with a home video release. Until now, it had been cooped up behind the paywall of a streaming service, making this the first opportunity to own it on physical media. While the musical may not be touring any more, it lives on with this excellent Blu-ray production.
The Tony Award-winning musical was inspired by the 1951 Best Picture Oscar-winning film of the same name, which was in turn inspired by composer George Gershwin's original orchestral piece first performed in 1928. The musical follows the template established by the film, padding its length by combining Gershwin's roughly 15-minute orchestral work with other George and Ira Gershwin standards like "S'Wonderful" and "I've Got Rhythm". So in effect, the end product is a jukebox musical celebrating the rich artistic legacy of the Gershwins.
The movie set the bar high for future adaptation, boasting Gene Kelly as the star and choreographer, Leslie Caron's screen debut, Vincente Minnelli in the director's chair, and a senses-shattering production of the central piece filmed on 44 sets on the MGM lot. The musical can't quite measure up in comparison, falling short with a fairly bland take on the signature piece, but the performers are athletic and engaging, and the show is a feel-good effort sure to appeal to all Gershwin and musical fans.
The story is set in the aftermath of World War II. It follows a piano-playing American GI turned aspiring painter named Jerry (Robbie Fairchild) who falls in love with a Parisian shopgirl/aspiring ballerina named Lise (Leanne Cope). His dorky American composer friend and a refined Parisian singer also have feelings for the shopgirl, setting up a love square that can only be resolved through song and dance.
Musicals sometimes favor one of their triple-threat categories over the others, with this show leaning on dance to such an extent that the leads seem like dancers who can just coincidentally act and sing. While that makes for some incredible showmanship, especially in ballet-intensive numbers, it leaves their acting and singing a bit underpowered. Fairchild matches the effortless physicality of the movie's Gene Kelly, without quite reaching his equally effortless charm. Cope is somewhat comparable to the movie's Leslie Caron, contributing a flat acting performance but showing off high proficiency in ballet. Thankfully, the leads are supported by some s'wonderful co-stars who pull their weight in the weaker categories.
Projected motion backgrounds and minimal sets make the production design seem a bit cheap, if technologically engaging. Kinetic camera work assists in helping us to feel like we're moving around the stage with the performers, and the Blu-ray image and sound quality are top notch. Unfortunately, the surprisingly basic leotard costuming and staging of the central musical piece leave much to be desired and fail to measure up to the opulent fever dream of Kelly's original movie. Overall though, it's a fun, engaging show that is well worth a look by all musical theatre fans.
An American in Paris is available on Blu-ray and DVD on July 20th.