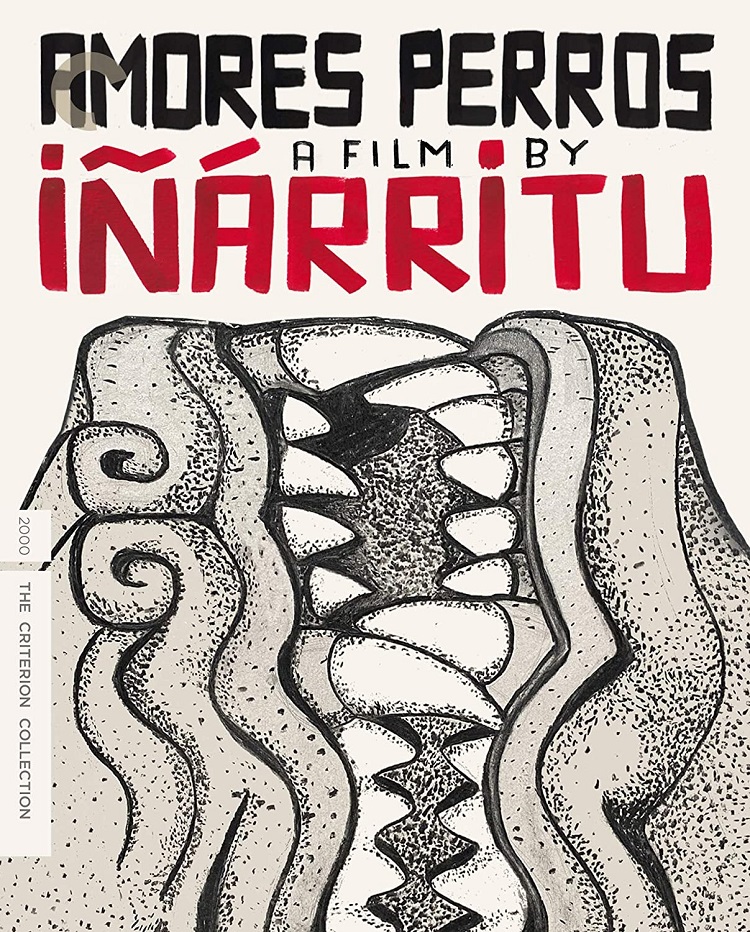 The most celebrated and well-known filmmakers of the Mexican New Wave are Guillermo del Toro, Alfonso Cuaron, and Alejandro Gonzalez Inarritu. All of three of them have made incredible and compelling films; they've also become very popular. However, their most impactful creations (for me personally) are the early ones: del Toro with Cronos (1993), Cuaron with Solo con Tu Pareja (1991), and Inarritu with his blazing, unflinching 2000 debut Amores Perros, which is the one that perhaps reinvented Mexican cinema, and many people's reinterest in it.
The story is about three characters (played by Gael Garcia Bernal, Goya Toledo, and Emilio Echevarria) whose lives intersect due to a hideous car accident in Mexico City; the film explores each of them as unexpected events shape them forever. Octavio (Bernal, in his film debut) is a slacker-type young man who's in love with his brother's wife. Valeria (Toledo) is a beautiful supermodel who thinks and seems to have it all. El Chivo (Echevarria) is a mysterious assassin who wants to reunite with his estranged daughter. Octavio wants to run away with Susana (Vanessa Bauche), so he walks into the savage underworld of dog fighting to make enough money to do so. Valeria moves in with married lover Daniel (Alvaro Guerrero), who leaves his family for her. And El Chivo is a hermit living in a rundown building until he's summoned for a new hit. As for those unexpected events, Octavio ends up injured in the car crash; Valeria gets severly hurt when her car gets hit by Octavio, leading to one of her legs eventually amputated from developing gangrene; and El Chivo finds, rescues, and takes Octavio's dog home to nurse back to health. However, in the end, it's really only El Chivo who gets a sort-of redemption, when he leaves a voice mail for his daughter and all the money (that he stole from Octavio), and walks off into an unknown future. 
Canines play a very essential role in the film. Cofi (Octavio's dog) is entered in the dogfights, and wins almost all of them, until Octavio's rival shoots him, which causes Octavio to stab the jerk. Ritchie (Valeria's dog) gets stuck under the floorboards, and his whimpering causes a huge riff between her and Daniel. After Cofi is rescued by El Chivo, he ends up killing all of his dogs, and becomes his only companion. They are the catalysts to their humans' behavior; they help the film flow as well. The credits state that "no animals were harmed in the making of this film," but that is definitely hard to believe, especially during the many realistic dogfights featured in the film, as well as other moments of shocking canine carnage. This is obviously not the best film to watch if you're an animal lover, that's for sure.
The actors (especially Bernal, Toledo, and Echevarria) in the film are simply superb. They give their characters emotional and harshly raw depth that arguably isn't usually seen in film. They do contribute to the meaning of the film's title, which translates to "love's a bitch." In this case, love and humanity come last to a sea of sex, violence, betrayal, greed, vanity, and abandonment. These characters are both those you despise, but generally find yourselves similar to. It is disturbing because the terrible things they often do resemble things you may have done at some point in your life. Personally, I think that this is one of the very few films that truly embodies humanity at its lowest, and says that it will never really change. People will still be people, no matter what.
Of course, this is a film that was destined for Criterion, and the great folks there have given us a stacked release. It has a new 4K restoration, and terrific supplements, including a new conversation between Inarritu and filmmaker Pavel Pawlokowski; new conversation between Inarritu and actors Bernal, Bauche, and Adriana Barraza; Perros, amores, accidentes, a new documentary on the making of the film featuring on set footage; rehearsal footage with reflections by Inarritu; new interview with composer Gustavo Santaolia; new video essay by film scholar Paul Julian Smith; deleted scenes, with optional commentary by Inarritu and cinematographer Rodrigo Prieto; music videos for songs from the film's soundrack by Control Machete, Cafe Tacva, and Julieta Venegas; and trailer. There is also a booklet with new essays by critic Fernanda Solorzano and author Juan Villoro.
It has been twenty years since Amores Perros made an unflinching impact on cinema, but time has been good to it. The themes and message are still unfortunately relevant. Inarritu has made films that are more mainstream, but as great as they are, this will always be his first and greatest masterpiece.