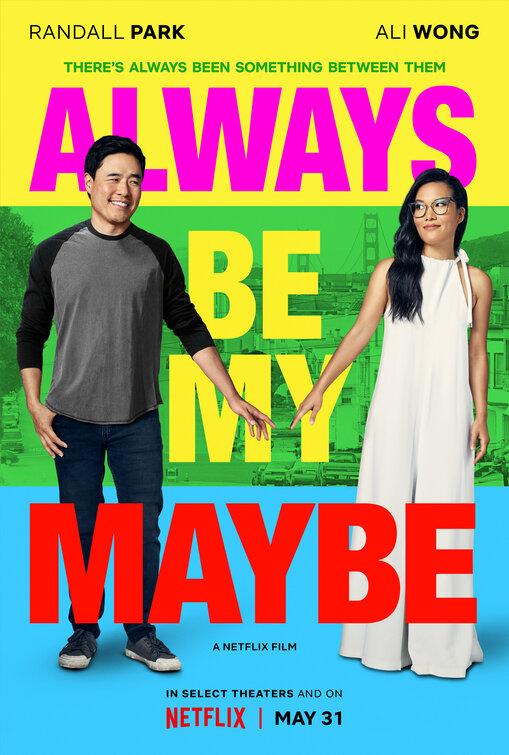 Kind of like the Mariah Carey song the title references, Always Be My Maybe feels like a catchy pop tune. You know the same repetitive beats will play out yet you still can't help but listen because it's an easy, fun tune to sing along to. However, Always Be My Maybe still conjures different lyrics to make it stand out from other interchangeable romantic comedies.
The film works as a funny, heartfelt reinvigoration of the "friend zone" trope present within the rather repetitive genre. The premise of the nice guy trying to tell the woman he's always loved about his feelings only to get sidelined by more masculine men remains the same, but the screenplay by co-stars Randall Park and Ali Wong does an admirable job at portraying the nice guy as less than prototypical. Marcus (Park) is a well-meaning guy who has a steady job and plays in a band, but there are difficult aspects of his personality that make his longtime crush Sasha (Wong) skeptical of pursuing a relationship with him.
As for Sasha herself, she's gone on to become a successful celebrity chef. She's admirably unapologetic for how driven she is and the wealth she's attained. Yet, because she pries Marcus so he can tap into his creative potential that he desperately keeps hidden, it's understandable as to why she might not be right for him. Both Sasha and Marcus have their fair share of flaws but they still have a connection because they've stuck together through thick and thin.
Not to mention, both Randall Park and Ali Wong have very naturalistic chemistry. After a string of small, supporting roles in films like Long Shot and Ant-Man and the Wasp, Randall Park gets to ascend into leading-man status and excels as the lovelorn, neurotic Marcus. But while he's amazing, Ali Wong manages to be the film's MVP. Wong is a mix of cutting comical wit and frailty as the ambitious Sasha.
The rest of the cast manages to be pretty aces as well. James Saito provides plenty of heart as Marcus' loving father Harry while Vivian Bang offers a fair amount of laughs as Jenny, Marcus' clueless girlfriend. Meanwhile, Michelle Buteau is incredibly no-nonsense as Sasha's assistant Veronica while Keanu Reeves gets to have a fun, self-referential cameo as himself. Daniel Dae Kim also has a small role as Sasha's estranged husband and is good despite the film's biggest downside being the fact he's not in it enough.
Thanks to the subversive screenplay and the terrific efforts from the cast, Always Be My Maybe offers plenty of heart and humor. Even if it goes down routes that one may think it might go, one still can't help but succumb to its charm. It's not meant to change the face of romantic comedies but it's still a worthy entry in the genre regardless.