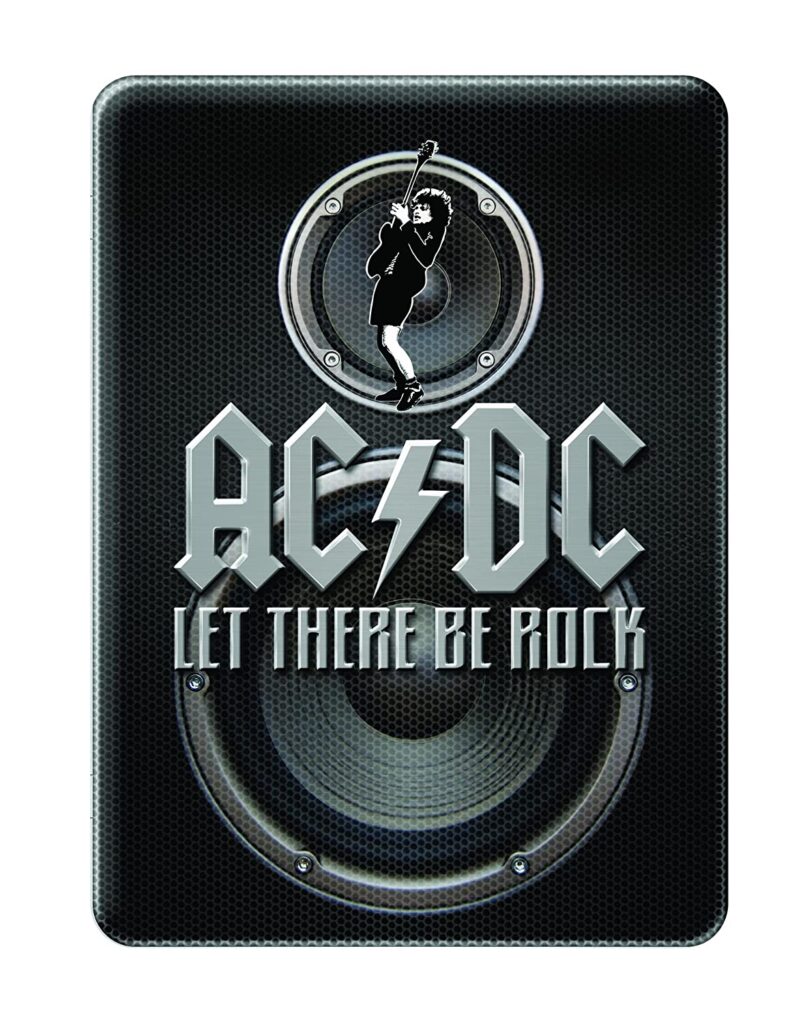 AC/DC's 1980 concert film Let There Be Rock captured the Bon Scott-led version of the band at what would unknowingly be its peak, though there were no signs the band was stopping their ascendancy. The outstanding rocker Highway to Hell led to an international expansion of the band's fanbase as the album charted in more countries than previous ones had. They broke the U.S. Top 100 for the first time, getting as high as #17, and nabbed their highest spot in France at #2, which might explain why they decided to shoot their December 9, 1979 performance at the Pavillion De Paris in front of a very enthusiastic crowd. Unfortunately, this would be Bon Scott's last tour because two months later in London he would die from choking on his own vomit while passed out in a friend's car overnight. It makes a triumphant performance bittersweet.
Directors Eric Dionysius and Eric Mistler make the interesting choice of starting the film after a performance as the road crew breaks down the equipment and the trucks head to the next gig. It's a nice touch to honor those behind the scenes who contribute to tour moving from city to city.
AC/DC plays on a bare stage with only colored lights augmenting the show, but needs nothing else from the high energy they bring to every song. Scott is bare-chested after a couple of songs. His mane of long hair and the way he prowls and struts around the stage while singing double and single entendres bring to mind a lion.
Yet, he's not the front man. That's lead guitarist Angus Young known for his iconic schoolboy uniform seen frequently in the spotlight. He flails about spasmodically, playing the guitar like he wrestling an alligator and duck-walking like Chuck Berry, that it's almost impossible to take your eyes off him because no one should be able to move the way he does while playing as well as he does. He gets to shine with his blistering solos and memorable riffs thanks to the consistently steady work of the rhythm section: brother Malcolm Young on guitar, Cliff Williams on bass, and Phil Rudd on drums.
The band starts the show with "Live Wire," which should get your foot stomping and head banging if you have a pulse, and rarely lets up the pace. This is band doesn't plays ballads. After "Sin City," the band is interviewed individually about a third world war for some reason. Then during "Walk All Over You," in an odd bit of fun, Rudd drives a car while Williams flies after him in a bi-plane. Scott demonstrates his fearless/recklessness on an iced over lake.
Band members sing the deserved praises of Angus and then he solos a bit before the band breaks into "Bad Boy Boogie." Then during a bridge begins his signature striptease routine with many in the audience cheering him on, which seems odd at such a testosterone-fuelled event. Angus works down to his shorts and after a quick mooning, grabs his guitar and gets back to business.
The interview segments increase as band members talk about Malcolm, seen goofing off on soccer field, and Angus is seen drawing his trademark little devil in a schoolboy outfit. Scott talks about meeting the band as he drove them around and signs autographs for fans, but when he talks about drinking too much, it's a tad depressing knowing what fate had in store.
During "Whole Lotta Rosie," Angus' guitar goes out. He swaps it out and a tech has to put on strap on it yet he doesn't seem to miss a note. During "Rocker," he goes off stage for some oxygen, then gets on a roadie's shoulders to make his way through the crowd. The place goes completely nuts as fans clamor to touch him and security fights them off. After inexplicably cutting "T.N.T." the movie concludes with the title track "Let There be Rock."
The video has been given a 1080p/MPEG-4 AVC encoded transfer displayed at 1.37:1 and is certainly limited by its source of 16mm footage shooting using lights planned for the concert and not the film. The other material shot looks better with bright colors and better-defined details, like the fine texture of the paper Angus draws on. In the hall, things get swallowed into the darkness and the haze of lights and likely smoke diffuse the long shots from the back of the hall. Under the bright lights, details like beads of sweat can be made out, but when it's all red, it's a bit of a blur, almost like the cameras couldn't focus. Grain can be seen as can damage in the form of small white speckles and a hair.
The audio is available as Dolby Digital 2.0 and DTS-HD Master Audio 5.1 for the concert performances. The 5.1 mix is impressive as all the instruments get their due to be heard. The only one who suffers on occasion is Scott, who gets overpowered by the band, but that's a source problem. The LFE delivers a great bottom end throughout, really thumping during "The Jack" as the rhythm section accompanies the audience on vocals.
Would have loved to have gotten the band's input on what they thought of the film, but instead the extras (all in 1080i) offer a number of guests appearing throughout, such as Billy Corgan, Lemmy, Matt Sorum, Rick Allen, The Donnas, Scott Ian, and Eddie Trunk, singing the AC/DC's praises.
"Loud, Locked and Loaded: The Rites of Rock" (9 min) is more about rock and what it means to the interviewees, but AC/DC is mentioned. "AC/DC: The Bedrock of Riff" (11 min)covers the importance of riffs and the way the brothers play off each other. Malcolm and Rudd get praise for his work. Ian shows off tattoos of both Young brothers on his inner biceps. The title gives away the next two. "Angus Young: A True Guitar Monster" (12 min)includes Ian talking of seeing the influences of Chuck Berry, Little Richard, and Jerry Lee Lewis in Angus. "Bon Scott: The Pirate of Rock 'n' Roll" (12 min)finds Corgan saying "I can't really think of many singers before Bon Scott where it sounded like the guy was singing at maximum volume every line. Bon Scott sang every line like it was his last." The history of the band is covered in "AC/DC: A Rock Solid Legacy" (24 min). Dubbed "Pods" (30 min), six of the songs played in the film are discussed. There is also a Playlist that allows you to play the songs in any order, though there's not much approving on the order they appear.
Let There Be Rock offers one of the better concerts captured on film because of AC/DC's musical abilities. Highly recommend for rock 'n' roll fans. It is also available in a limited edition collector's tin of which 90,000 were made. It comes with a Blu-ray and DVD disc, postcards of images from the movie, a guitar pick, and a 32-page booklet