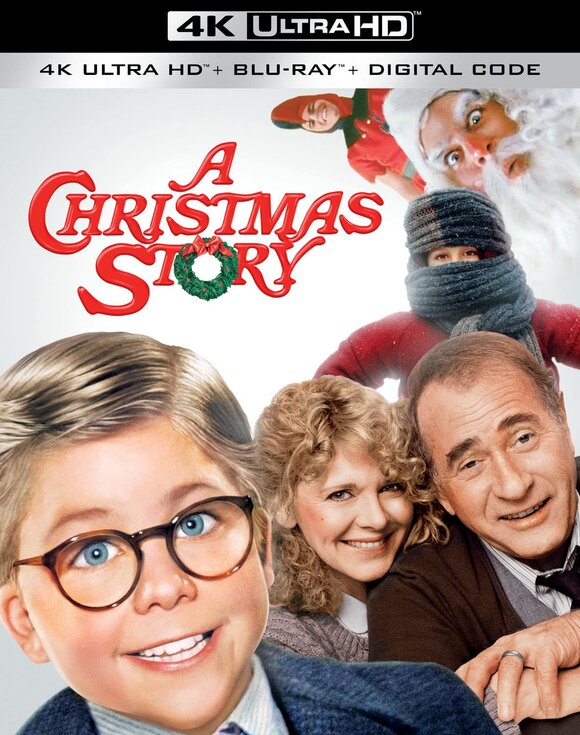 A Christmas Story (1983; dir. Bob Clark) is a charmer—a sweet and funny yuletide gem that's never too cute for its own good. With this movie, the deceased Clark—the guy who gave us the terrifying Black Christmas (1974) and the raunchy Porky's (1981)—yet again showed his range. He scored a family-friendly bullseye. The movie is a holiday mainstay that hasn't worn out its welcome in the slightest.
Story centers on Ralphie (Peter Billingsley), a doe-eyed, bespectacled kid in the 1940s who wants a Red Ryder BB gun for Christmas. Narrated and co-scripted by Jean Shepard (the author of the novel that inspired the movie), Story follows Ralphie's comical quest to get his gun, and his family's effort to get through a frigid Christmas in one piece, without going ape. Darren McGavin and Melinda Dillon play Ralphie's parents. (And they're terrific.)
Part of what makes Story resonate is its focus on tiny, richly observed moments. Consider the grumpy way Ralphie's old man handles a grumpy basement furnace. Or the gentle and amused way Ralphie's mom scolds his little brother at the dinner table. Or the deft way she helps Ralphie after he fights a bully. I'm always tickled by the scene in which Ralphie, confronted with a crabby department-store Santa, makes his wish for the BB gun. These episodic moments add to something greater than the sum of their parts.
Clark nails the tone. Story is a souffle—it's just light enough. Warm without falling prey to cliché or sentimentality, it conveys a bemused and knowing affection for Ralphie and his family. There's a tenderness they share that feels real. Ralphie's parents love their kids—but not in an overhanded, clearly engineered-for-the-flicks way. It's a sly, coy fondness. Shepard & Clark love their subject, but their eye for the human foible is sharp. Almost no character gets off easy.
A Christmas Story is a crowd-pleaser that sidesteps cheap laughs and goopy nostalgia. It faithfully conveys someone's actual memory of what it was like to be a kid of a certain age at a particular Christmastime in history, without trying too hard to be festive or cute. There lies the key to its staying power.
Now out in glorious 4K Ultra HD, the movie looks more vibrant than ever—but not at the expense of the grainy, diffused look that gives the film part of its flavor. This Warner Bros. set carries a fresh 4K scan on one disc, which includes pre-existing audio commentary by Clark & Billingsley. A separate Blu-ray sports the movie and several pre-existing and new special features (including, among other items, a tour of the home used [in exterior shots] as Chez Ralphie, a couple of Shepherd's original radio recordings, and a copy of the theatrical trailer). The set also provides access to a digital copy of the film.