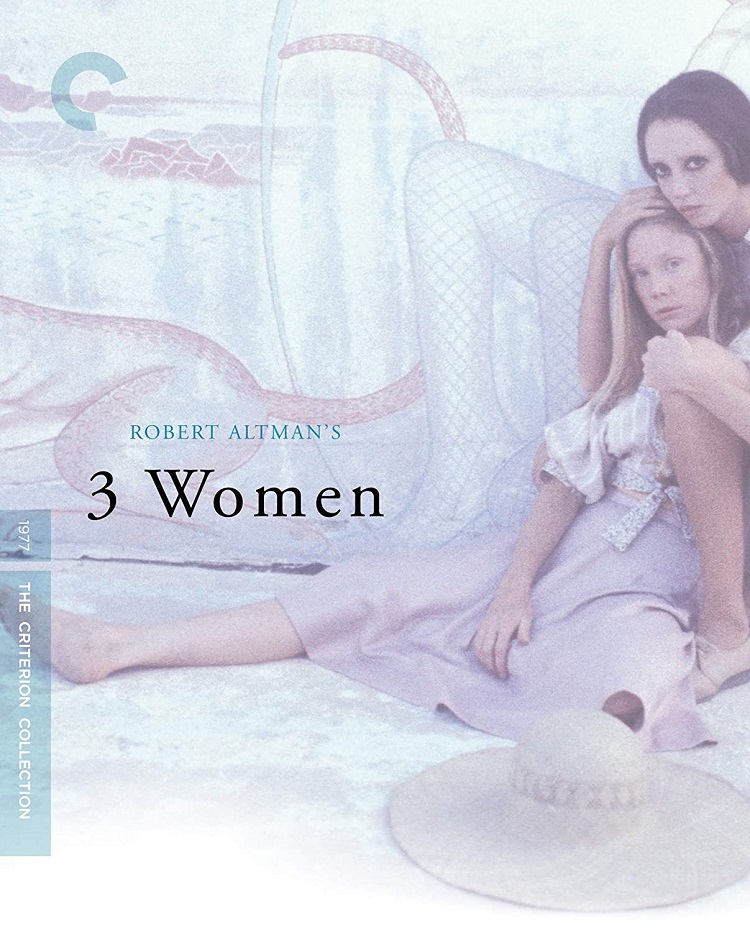 Writer/producer/director Robert Altman's 3 Women is powered by the standout performances of Sissy Spacek and Shelley Duvall playing two offbeat women whose lives come together in an unusual manner. Unfortunately, the story doesn't come together, resulting in an unsatisfying film in the end that Criterion now presents in high definition.
Pinky (Sissy Spacek), a shy, immature young lady, seemingly fresh out of high school, gets a job at a convalescent hospital in a small California desert town. She immediately becomes fixated with Millie (Shelley Duvall), a fellow Texan who gives off a sophisticated air that no one else can take. Fellow employees and apartment neighbors ignore and mock Millie, who acts blissfully unaware of their reactions towards her.
When Millie places an ad for a roommate, Pinky makes sure she's the only respondent. She then emulates Millie by wearing her clothes and reading her diary. One night, Millie's frustrations with her life, particularly in the area of romance, spill out. Pinky winds up on the receiving end of Millie's anger, culminating in her experiencing a major trauma. The outcome results in Pinky undergoing a distinct change in personality, no longer timid and introverted but bold and sociable.
Is the new Pinky the third woman of the title? Or is it Janice (Willie Hart), a pregnant neighbor who paints murals (by Bodhi Wind) populated with monstrous creatures that Altman makes sure the camera focuses on because the images offer some insight into the story and relationships. She starts out on the periphery and becomes a central figure to the plot when it reaches its climax.
On the commentary track, which was recorded in 2003, Altman says stories don't interest him, which is unfortunate for those who are interested in them. He also reveals he was given the greenlight without a completed screenplay, which comes as no surprise after watching the film. What he did have was a title, a desert location, the two lead actresses, and the idea of someone stealing a person's identity. All of which he derived from a dream occurring after his recent departure from an unnamed Warner Brothers picture and a health scare involving his wife. The results reveal that's not the best way to make a film, as even Altman states looking back on it that he finds elements pretentious and contrived.
3 Women comes across unsure of what it wants to do. It starts out with Pinky slowly taking Millie's identity, hinting that they may be the same person, and then in the epilogue, changing their roles and relationship yet again. During the climax, Millie tells Pinky to get help, but instead she inexplicably stands frozen as Altman ups the "art" quotient, choosing to show a series of images that offer more ambiguity then anything else. If Altman had worked through his ideas before rather than during production, he would have allowed himself a better opportunity to succeed.
Criterion upgraded their 2004 DVD release with a 1080p/MPEG-4 AVC encoded transfer displayed at 2:35:1 that is bound by the limits of its source. The earth tones of the California desert come through in strong, dull hues. The image is soft, so objects aren't very sharp, and grain is evident throughout. The LPCM Mono audio presents a serviceable experience that is also limited by the source. The dialogue is clear. Music and effects reveal a narrow dynamic range. Aside from the commentary track, extras include Still Galleries featuring production and publicity shots.
Not one of Altman's best, but the acting of Duvall and Spacek make 3 Women worth seeing and Altman's commentary is worth hearing.