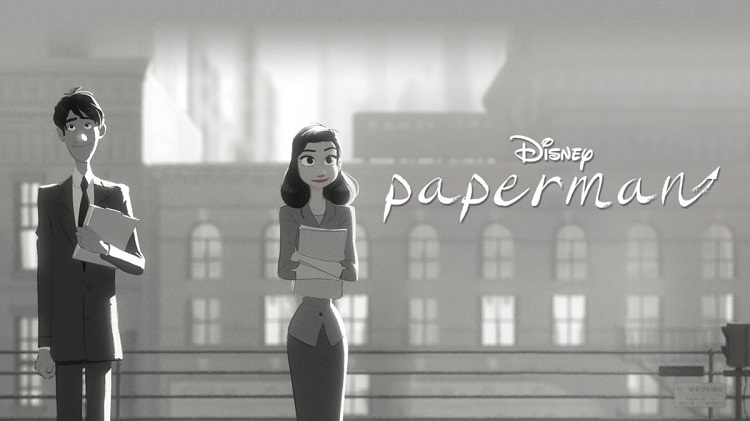 Written by Ben Platko
Animated short films are often relegated to film festivals, and as a result go almost unnoticed. Unfortunately, the only time the general public cares about them is during Oscar season, and even then, most people are too wrapped up in the nominees for Best Picture and acting. Thankfully for those who enjoy them, ShortsHD is continuing their tradition of programs featuring the Oscar-nominated shorts (Live Action, Animation, and Documentary), which will be in theaters across the U.S., Canada, and Europe beginning February 1st. The 2013 Oscar-nominated animated shorts are:
Maggie Simpson In "The Longest Daycare"
The Simpsons has been on the air since 1989, spanned 24 seasons (about ten of them were good), and much like the Cosbys, this television family has helped us all through some tough times (though much more irreverently). In its early days, The Simpsons derived its humor from deep characters, and believable (if exaggerated) situations. It was a show about a family that, no matter how dysfunctional they were, stuck together. At some point in the last ten years, it devolved into a flavor-of-the-week show; a stream of extravagant gimmicks that almost always involve high-priced guest stars voicing a yellow-skinned version of themselves.
Needless to say, I was a bit surprised to see a new Simpsons short nominated for an Academy Award. How could something that disappointed me as much as The Simpsons deserve an Oscar? The short answer is that it does not. The Longest Daycare follows Maggie Simpson's adventure to rescue a caterpillar from certain demise at the hands of another baby at the Ayn Rand Daycare Center. It has all the ingredients of an Oscar shoe-in: a simple, vaguely emotional story in three acts; a score by Hans Zimmer; and a happy ending. None of it gelled like it should have, though. Zimmer's score seemed to overshadow the story, and there was no creative risk taken. There was a dab of warped perspective early on, but it was never really reintroduced, or explored again. Beyond that, it was styled exactly like an episode of The Simpsons. In fact, it felt like a filler story – a side plot – for an episode.
Fresh Guacamole
Fresh Guacamole was a wonderful little stop-motion piece. Its magic lies in the talent of its animator, and his attention to detail. The audience is instructed in how to make guacamole with some rather unusual ingredients: hand grenade avocados with billiard-ball pits, diced baseball onions, even a Christmas light jalapeño. The director clearly knows his craft, and is quite skilled. However, this is something I would expect to see at an experimental film festival, and I fear that the competition is too stiff for this little independent triumph.
Adam and Dog
This story of man's best friend – indeed, man's first friend – is set in the Garden of Eden during the first few days of existence. Essentially, it is the creation myth told from a dog's perspective. The story is quite simple, and it's one we've heard a thousand times: two characters become friends, a girl creates a rift between them, they realize that friendship is more important, and in the end everyone is happy (despite being exiled from paradise). The artwork and animation that went into Adam and Dog is nothing short of gorgeous. At first, I was reminded of Miyazaki – huge, lush landscapes with an ethereal whimsy about them, and some of it certainly echoes his work. The real magic of this piece is found in the relationship between Adam and his dog. Without dialogue or religious overtones, the audience just sees two creatures exploring a new world together, and growing along the way. Adam and Dog is perhaps the most deserving of an Oscar, so it will probably lose.
Head Over Heels
Animation can do anything quite literally, and we accept it – that's part of its charm. In Head Over Heels, an aging couple – Walter and Madge – (literally) cannot agree which direction is up, and they have developed an equilibrium that works for them: one exists on the floor, and the other upside down on the ceiling. Their separate lifestyle works fine, until Walter tries to rekindle their old romance, and sends the entire universe (their double-sided house) spiraling out of control. Head Over Heels is fanciful, imaginative, and heartwarming.
Paperman
By far my favorite animated short, Paperman is grounded in a very stylized reality with a dash of Fantasia thrown in. After a (very brief) chance meeting with a gorgeous girl on a train platform, our main character (hero?) is shaken from his stark grey, paper-filled world, and tries to get her attention with innumerable paper airplanes. There's a certain naivete that only Disney can pull off, and it permeates Paperman. Aesthetically, the black and white (pencil and paper) world is wonderful, and the stray pencil-line styling lends a sense of authenticity and warmth to the film. Some may say that Paperman was only nominated because Disney made it, but it is truly a piece of art.