In 1971, ABC aired the first animated special aired on primetime television, The Point, a lesson in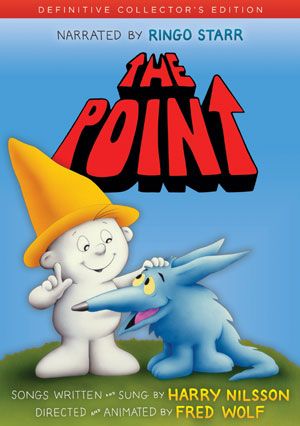 tolerance told through Harry Nilsson's wonderful music.  A new collector's edition, available on DVD, brings the charming cartoon to a new generation through remastering and bonus features.  Those who grew up listening to such tunes as "Me and My Arrow" and "Are You Sleeping?" will enjoy this trip back in time, while its timeless themes may resonate with younger viewers.
The Point tells the story of Oblio, a round-headed boy living in a land where everyone else sports pointed heads.  In a land where even the buildings bear points, Oblio is quickly made to feel like an outcast.  After besting an evil wizard's son in a game, Oblio and his loyal dog Arrow are banished to the Pointless Forest. While encountering a variety of outrageous characters, Oblio learns that "everybody has a point," that everyone has worth regardless of appearance.  Returning home, the village overrules the evil wizard and welcomes Oblio back with open arms.  Framing the story is the narrator, a father telling his son the story. Ringo Starr provides the father's, and his droll voice adds humor and a touch of melancholy to The Point.
Directed and animated by Fred Wolf, The Point resulted from a story idea by Nilsson, a singer/songwriter who initially gained fame through the hit "Everybody's Talkin'" and the ultimate endorsement: The Beatles.  His impressive multi-octave vocal range, slightly Tin Pan Alley-sound, and quirky sense of humor endeared him to a growing number of fans, and The Point expanded his audience to children as well.  His songs range from humorous ("Think About Your Troubles," perhaps the only children's song to contain the word "decompose") to touching ("Me and My Arrow").
Nilsson's Beatles connection applies here not only because of Starr's narration, but the animation style as well.  The trippy, hallucinatory quality of various scenes, featuring swirling colors and abstract characters, perfectly complement the dreamlike songs such as "Are You Sleeping?" and "Life Line."  Youngsters used to Pixar films may find the film's hand drawings unrealistic, but the abstract and childlike renderings (with a healthy dose of Yellow Submarine-esque psychedelia) comprise part of The Point's charm.
Extras include an all-too-brief profile of Nilsson; for a more complete portrait, view the excellent documentary Who Is Harry Nilsson (And Why Is Everybody Talkin' About Him)? Colleagues and friends such as director Terry Gilliam recall how Nilsson developed the story, pitched it to the then-ABC president, and recorded the soundtrack.  Strangely none of the surviving voices are interviewed--surely Starr or Oblio portrayer Mike Lookinland (Bobby on The Brady Bunch) would have interesting anecdotes about recording their parts.  
Despite the skimpy extras, The Point is a must-own for original fans and their kids.  Nilsson's songs remain eccentric yet poetic, and the digital restoration greatly benefits the visual quality. Though Nilsson passed away in 1994, his music--and this special tale--will resonate with generations to come.  Young and old will surely understand the story's ultimate message: "every man has a point, whether it shows or not.