Free! Gratis! Absolutely no charge! Today marks the 11th annual nationwide Free Comic Book Day, a fantastic event that presents a wide variety of exclusive titles from all of the major comic book publishers. How do you get 'em? Just visit your local comic book store and look for the free stuff! The free titles prominently display a uniform Free Comic Book Day logo on the cover, and most stores house them near their checkout counters.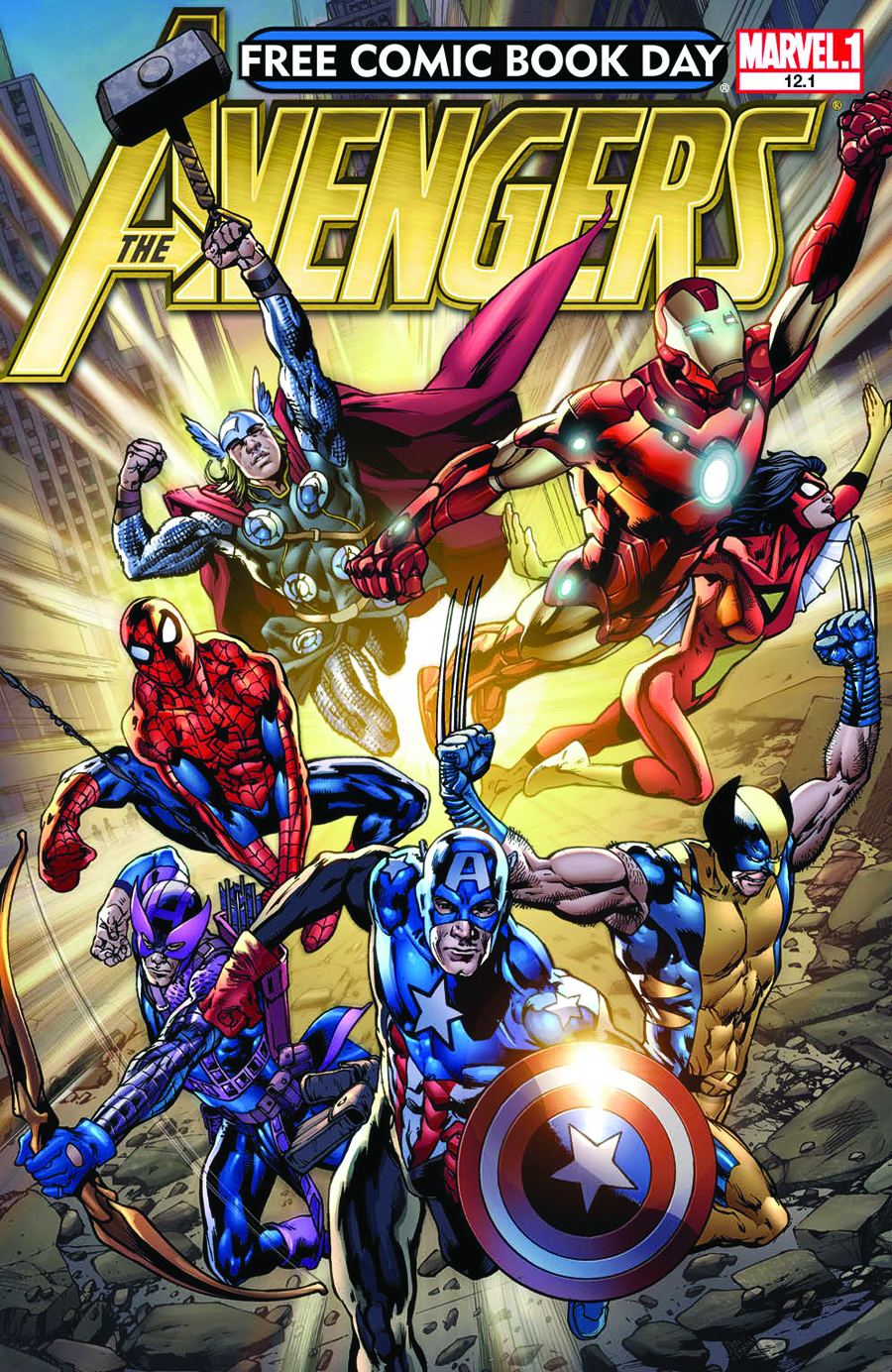 Although it might seem like the event is timed to coincide with the US theatrical release this weekend of Marvel's The Avengers, it's always held on the first Saturday in May, ensuring that it's always easy to remember when to grab the goods. Marvel has an Avengers title this year which should be one of the hottest items, as well as a separate Spider-Man title in advance of that upcoming film, but even if superheroes aren't your thing, the event covers the full spectrum of comics so everyone should be able to find something of interest.
Spotlighting some of the other titles available this year, Dark Horse has a Star Wars/Serenity flip book, DC highlights their ongoing The New 52 concept (although oddly failing to release a standalone Batman title in advance of The Dark Knight Rises) Oni Press has a Yo Gabba Gabba! book for the youngest (ok, and some older) fans, Papercutz has a funny Smurfs story by ace original creator Peyo, along with a couple of Tinker Bell shorts on the flip side, Fantagraphics reprints some classic Donald Duck and Uncle Scrooge yarns by legendary artist Carl Barks, and Drawn & Quarterly debuts a colored Moomin comic strip story from original creator Tove Jansson paired with a new title for the kids called Anna & Frogga on the flip side.
My personal favorite this year is a lush 50-page hardcover (!) release from Archaia Entertainment which they bill as "the first-ever Free Comic Book Day original graphic novella hardcover anthology". The book includes all-new short stories from the Eisner Award-winning titles Mouse Guard and Return of the Dapper Men, along with a new story from the world of Jim Henson's Labyrinth and a few other intriguing entries. I don't know how they managed to pull this off for a free giveaway, but it is spectacular.
You're certain to get at least one free title at your local participating store, but keep in mind that while they're free for you, the stores do actually purchase these comics at a greatly reduced cost from the publishers, so you may encounter a limit or nominal fee when requesting additional issues. Regardless, the event remains a great way to get new readers exposed to the wide spectrum of comics goodness.
For more information including a full roster of the titles available as well as a list of participating stores (almost all should be), visit the Free Comic Book Day website. What are you waiting for? Go!